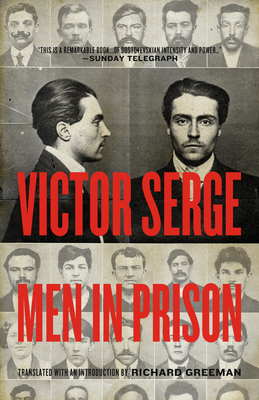 Men in Prison (Spectre) (Paperback)
PM Press, 9781604867367, 320pp.
Publication Date: April 1, 2014
* Individual store prices may vary.
Description
Startlingly human and unflinchingly honest, this thinly veiled fictionalized firsthand account of talented political writer Victor Serge's time in prison is an important addition to the canon of prison writing as well as an unfiltered view of humanity in the early 20th century. Rejecting the opportunity to present political propaganda, Serge's portrayal of imprisonment is instead an insightful and emotionally wrought tale of repression. The depraving brutality that Serge experienced behind bars is at once a mirror of a society at war and a deeply personal question of purpose. Originally published in 1930 and translated from the French by Richard Greeman in 1977, this reprint makes a fascinating and compelling novel available again with a new introduction by Greeman that situates the work in the context of Serge's life.
About the Author
Victor Serge was a Russian writer and a revolutionary who lived at the turn of the 20th century. He was an anarchist and later a Bolshevik, and his life as an outspoken critic of Stalin led to him being arrested twice, deported, and having to live out the remainder of his life in exile. He is the author of books that include Birth of Our Power, Conquered City, and Year One of the Russian Revolution. Richard Greeman is a translator and the author of Beware of Capitalist Sharks!: Radical Rants and Internationalist Essays. He has translated and written the introductions for five of Victor Serge's novels and he is cofounder of the Praxis Center and Victor Serge Library in Moscow. He lives in New York City.
Praise For Men in Prison (Spectre)…
"This is a remarkable book . . . capable of Dostoyevskian intensity and power."  —Francis King, Sunday Telegraph
"Like much of Serge's other writing, this should be compulsory reading for anybody interested in matters of social justice or in the history of anarchism.
" —Vittorio Frigerio, Anarchist Studies
"Like much of Serge's other writing, this should be compulsory reading for anybody interested in matters of social justice or in the history of anarchism." —Vittorio Frigerio, Anarchist Studies
Victor Serge and the 'cycle of revolution': Men in Prison —mention in magazine, Progress in Political Economy (PPE)