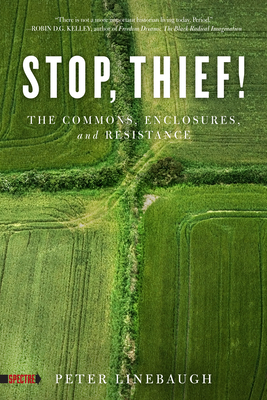 Stop, Thief! (Paperback)
The Commons, Enclosures, and Resistance (Spectre)
PM Press, 9781604867473, 336pp.
Publication Date: March 1, 2014
* Individual store prices may vary.
Description
In bold and intelligently written essays, historian Peter Linebaugh takes aim at the thieves of land, the polluters of the seas, the ravagers of the forests, the despoilers of rivers, and the removers of mountaintops. From Thomas Paine to the Luddites and from Karl Marx—who concluded his great study of capitalism with the enclosure of commons—to the practical dreamer William Morris who made communism into a verb and advocated communizing industry and agriculture, to the 20th-century communist historian E. P. Thompson, Linebaugh brings to life the vital commonist tradition. He traces the red thread from the great revolt of commoners in 1381 to the enclosures of Ireland, and the American commons, where European immigrants who had been expelled from their commons met the immense commons of the native peoples and the underground African American urban commons, and all the while urges the ancient spark of resistance.
About the Author
Peter Linebaugh is a historian, a professor at the University of Toledo, the coauthor of Albion's Fatal Tree and The Many Headed Hydra, and the author of The London Hanged and The Magna Carta Manifesto. His articles have appeared in publications that include CounterPunch, the New Left Review, New York University Law Review, Radical History Review, and Social History. He lives in Toledo, Ohio.
Praise For Stop, Thief!: The Commons, Enclosures, and Resistance (Spectre)…
"There is not a more important historian living today. Period."  —Robin D. G. Kelley, author, Freedom Dreams


"E. P. Thompson, you may rest now. Linebaugh restores the dignity of the despised luddites with a poetic grace worthy of the master . . . A commonist manifesto for the 21st century."  —Mike Davis, author, Planet of Slums


"Peter Linebaugh's great act of historical imagination . . . takes the cliché of 'globalization' and makes it live. The local and the global are once again shown to be inseparable—as they are, at present, for the machine-breakers of the new world crisis."  —T. J. Clark, author, Farewell to an Idea
"Linebaugh's essay collection is not only an historian's reading of history, but intended also as a spiritual uplifting for modern dissidents and activists, a writing of history that liberates and encourages radical possibilities, the 'resistance' in his title not only referring to the subject matter of his text, but to the present and to the future." —Rowan Cahill, radicalsydney.blogspot.com.au
"It's a tremendous book, bursting with astonishing detail, bizarre entanglements, autobiographical excursions and firebrand rhetoric." —Martin Parker, Anarchist Studies