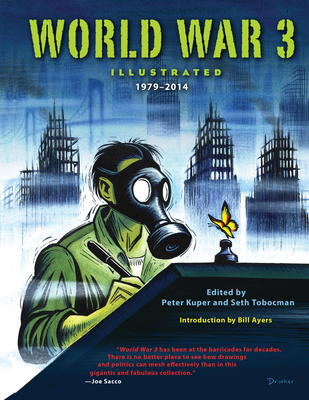 World War 3 Illustrated
1979–2014
Hardcover

* Individual store prices may vary.
Description
Founded in 1979 by Seth Tobocman and Peter Kuper, World War 3 Illustrated is a collective of first-time and professional artists who use confrontational comics to shine a little reality on the fantasy world of the American kleptocracy. This full-color retrospective exhibition is arranged thematically, and includes topic of housing rights, feminism, the environment, religion, police brutality, globalization, and depictions of conflicts from the Middle East to the Midwest. World War 3 Illustrated also illuminates the war we wage on each other—and sometimes the one taking place in our own minds. Contributors include Sue Coe, Eric Drooker, Fly, Sandy Jimenez, Sabrina Jones, Peter Kuper, Mac McGill, Kevin Pyle, Spain Rodriguez, Nicole Schulman, Seth Tobocman, Susan Willmarth, and dozens more.
Praise For World War 3 Illustrated: 1979–2014…
"World War 3 Illustrated is the real thing. . . . As always it mixes newcomers and veterans, emphasizes content over style (but has plenty of style), keeps that content accessible and critical, and pays its printers and distributors but no one else. If it had nothing more than that kind of dedication to recommend it, it would be invaluable. But it has much, much more."  —New York Times


"Reading World War 3 Illustrated is both a cleansing and an enraging experience. The graphics remind us how very serious the problems and how vile the institutions that cause them really are."  —Utne Reader


"Powerful graphic art and comic strips from the engaged and enraged pens of urban artists. The subjects include poverty, war, homelessness, and drugs; it's a poke in the eye from the dark side of America, tempered by what the artists describe as their 'oppositional optimism.'"  —Whole Earth Review


"This is art—not marketing—on the newsstand. It represents the sort of creativity too rarely given an outlet in comics. It's the best and longest running alternative comics anthology around."  —Comics Journal
"Far ahead of its time,
World War 3
paved the way for the more established forms of comics journalism now. . . . this is an indispensable collection of groundbreaking comics." —
Publishers Weekly
"Organized under categories and including a helpful time line, this book is sure to surprise, enlighten, educate, and inspire." —Henry Chamberlain, comicsgrinder.com
"Reading through this strikingly designed book, one cannot help but admire those many young, often obscure and struggling, courageous comic book artists and cartoonists who, with unbridled passion, took on unpopular issues, bashed stereotypes, tore down walls and smashed icons." —Bill Berkowitz, truth-out.org
"
World War 3
is a useful subjective historical record. When looked at alongside other key comics documents, it's a window on two generations of alternative cultural and political ideas." —Steve Heller, the 
Atlantic
"These comics are individual, raw, exceedingly biased, and will stay with the reader for a long time to come." —Gretchen Wagner, 
San Francisco Book Review
"It is safe to say that nothing, in the annals of comic art, has ever resembled
World War 3 Illustrated
. Luckily for comic enthusiasts everywhere, this remarkable body of work is now collected in an oversized, chock-full volume." —Paul Buhle, 
Dissent
PM Press, 9781604869583, 320pp.
Publication Date: July 1, 2014
About the Author
Peter Kuper is a cofounder and editorial board member of political graphics magazine World War 3 Illustrated and a teacher who has taught at New York's School of Visual Arts and Parsons the New School for Design. Best known for drawing Mad magazine's Spy vs. Spy comic since 1997, he has also illustrated covers for Newsweek and Time magazine. He is the author of the graphic novel Sticks and Stones, which won the New York Society of Illustrators Gold Medal, and Diario de Oaxaca: A Sketchbook Journal of Two Years in Mexico. Seth Tobocman is the cofounder of World War 3 Illustrated. He is the author and illustrator of five graphic books, including Portraits of Israelis and Palestinians, Understanding the Crash, and You Don't Have to Fuck People Over to Survive. He has participated in exhibitions at ABC No Rio, Exit Art, the Museum of Modern Art, and the New Museum of Contemporary Art. His illustrations have appeared in the New York Times, among many other publications. They both live in New York City. Bill Ayers is a professor of education and senior university scholar at the University of Illinois–Chicago. He is the founder of the Small Schools Workshop and the Center for Youth and Society and the cofounder of the Weather Underground. He lives in Chicago.