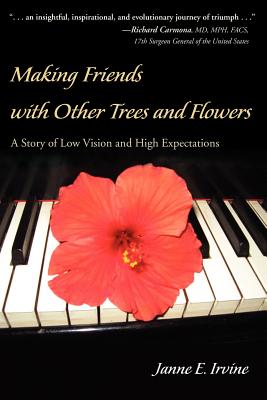 Making Friends with Other Trees and Flowers (Paperback)
A Story of Low Vision and High Expectations
Wheatmark, 9781604946536, 310pp.
Publication Date: October 15, 2011
* Individual store prices may vary.
Description
A Story of Low Vision and High Expectations
Janne E. Irvine's vision was damaged after birth, and grew worse over time. Even so, her parents provided her with an environment that enabled her to thrive. In "Making Friends with Other Trees and Flowers," Janne relates with humor and honesty how a vivid imagination made it possible for her to understand the blurred images of her world. She shows how disability, when coupled with creativity, can provide chances for boundless fulfillment.
About the Author
Janne Irvine, pianist and musicologist, holds degrees from Sarah Lawrence College and the Yale University School of Music. Her doctor of musical arts is from the University of Arizona in Tucson where she has lived since 1974.
"Janne has provided us with an insightful, inspirational, and evolutionary journey of triumph over challenge which demonstrates that in many ways she has better vision than most of us." -- Richard Carmona, MD, MPH, FACS, 17th Surgeon General of the United States
"A must-read for parents of blind and low-vision children." -- Kathryn Hume, Edwin Erle Sparks Professor of English, Pennsylvania State University.