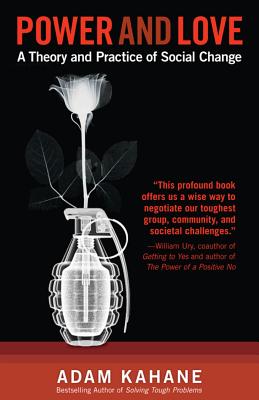 Power and Love
A Theory and Practice of Social Change
Paperback

* Individual store prices may vary.
Other Editions of This Title:
Paperback, Large Print (8/18/2011)
Description
The two methods most frequently employed to solve our toughest social problems—either relying on violence and aggression or submitting to endless negotiation and compromise—are fundamentally flawed. This is because the seemingly contradictory drives behind these approaches—power, the desire to achieve one's purpose, and love, the urge to unite with others—are actually complementary. As Dr. Martin Luther King Jr. put it, "Power without love is reckless and abusive, and love without power is sentimental and anemic." But how do you combine them?

For the last twenty years Adam Kahane of Reos Partners and the University of Oxford has worked around the world on many tough and vital challenges: food security, health care, economic development, judicial reform, peacemaking, climate change. In this extraordinary book he draws on this experience to delve deeply into the dual natures of both power and love, exploring their subtle and intricate interplay. With disarming honesty Kahane relates how, through trial and error, he has learned to balance them and offers practical guidance for how others can learn that balance as well.
Praise For Power and Love: A Theory and Practice of Social Change…
"Adam Kahane gradually builds his own proficiency at balancing empathy (love) and resolve (power), and thus raises the game for all of us."
Art Kleiner, Editor in Chief, strategy+business, and author of The Age of Heretics

"In this rare and valuable book Kahane unfolds a simple and penetrating insight: that power and love are two axes that delineate our individual and collective journeys. Either we master the balance of power and love, or we will fail in our efforts to realize deep and lasting change."
—Peter Senge, Founding Chair, Society for Organizational Learning; Senior Lecturer, Massachusetts Institute of Technology; and author of The Fifth Discipline

"This exceptionally brave book pierces to the heart of how we must act in the world we so want to change. Kahane's willingness to look honestly at his experiences—working on the world's most difficult issues and in its most difficult places—is a model of courageous inquiry."
—Margaret J. Wheatley, author of Leadership and the New Science

Berrett-Koehler Publishers, 9781605093048, 192pp.
Publication Date: December 26, 2009
About the Author
Adam Kahane is a partner in Reos Partners, an international organization dedicated to supporting and building capacity for innovative collective action in complex social systems.