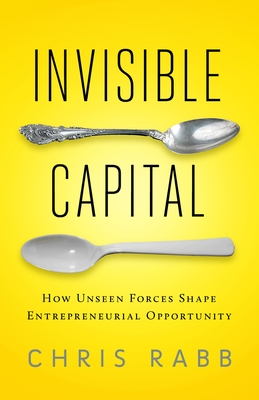 Invisible Capital
How Unseen Forces Shape Entrepreneurial Opportunity
Paperback

* Individual store prices may vary.
Other Editions of This Title:
Paperback, Large Print, Large Print (8/18/2011)
Description
Nearly seven in ten Americans believe the American dream will be harder for their children to achieve than for themselves. Yet the myths around rugged individualism, meritocracy, and rags-to-riches upward mobility stubbornly persist. As "pro-entrepreneurship" as the United States seems, most Americans aren't very knowledgeable about how business really works. Millions of newly minted business owners don't know the importance—or even existence—of invisible capital.

Invisible capital is a complex set of factors—our skills, knowledge, networks, resources, and experiences—that can mean the difference between success and failure. Chris Rabb details how people can identify, grow, and leverage their invisible capital and explains why starting a business with deep community roots increases the chance of success.

Understanding invisible capital will enable more Americans to be better prepared to pursue entrepreneurship and level the playing field—because hard work, a great idea, and a good attitude simply aren't enough.
Praise For Invisible Capital: How Unseen Forces Shape Entrepreneurial Opportunity…
"My book discusses how green jobs can fix America's two biggest problems: pollution and poverty. Invisible Capital illustrates masterfully why community-centered entrepreneurship is an essential component of this solution."
—Van Jones, author of The Green Collar Economy

"Women entrepreneurs and advocates for women-owned businesses, listen up and read Chris Rabb's book to find out how to evaluate invisible capital—not just financial capital—and leverage it for success."
—Linda Tarr-Whelan, author of Women Lead the Way

"Eye-opening—shatters several myths, legends, and assumptions about entrepreneurship, opportunities for entrepreneurs, and the role of start-ups in society."
—Jay Rao, Professor of Technology & Innovation, Babson College

"'Invisible capital' is not just a new turn of phrase or theory but an important paradigm shift to be explored by all current and future social entrepreneurs and their supporters. This book inaugurates Chris Rabb as a national thought leader on the intersection of entrepreneurship and meaningful social change!"
—Cheryl Dorsey, President, Echoing Green

"The Horatio Alger myth permeates our political debates over economic and social policies in America. Indeed, Republicans and Democrats are perpetually locked in a rhetorical arms race about whose ideals are more likely to spur entrepreneurship and the growth of 'small business.' Chris Rabb's conceptually rich account of how 'invisible capital' shapes the possibilities for entrepreneurial success shows that both parties are like the proverbial emperor with no clothes when it comes to the issue of small business development. Rabb's work also provides a powerful counterpoint to these empty debates by pointing policymakers to positive steps they can take to help individuals and communities level the entrepreneurial playing field."
—Alvin Tillery, Jr., Assistant Professor of Political Science, Rutgers University–New Brunswick

"Democratizing the economy is one of the truly great challenges of the 21st century. In this splendid book, Chris Rabb provides a detailed guide to the invisible forces that benefit the few and hold so many other people back. Make it required reading for your business bookshelf."
 —Michael Edwards, Distinguished Senior Fellow, Demos, and author of Small Change

"This book is not just for entrepreneurs. In fact, it's even more valuable for local civic leaders across the country who need to understand how invisible capital impacts long-term economic development."
—Bo Kemp, Director, CRG Partners, and former business administrator, City of Newark

"Women entrepreneurs and advocates for women-owned businesses listen up and read Chris Rabb's book to find out about how to evaluate invisible capital—not just financial capital—and leverage it for success. Here is a compelling and thoughtful approach to help you from an expert with a uniquely diverse background and perspective."
—Linda Tarr-Whelan, author of Women Lead the Way

"Chris Rabb makes the bold assertion that democratizing entrepreneurial opportunity is a prerequisite for economic sustainability and community revitalization. Equally important, his book emphasizes that innovating how we help entrepreneurship flourish is just as important as the innovations that entrepreneurs spark themselves."
—William Generett, Executive Director, Pittsburgh Central Keystone Innovation Zone
Berrett-Koehler Publishers, 9781605093079, 192pp.
Publication Date: October 21, 2010
About the Author
Chris Rabb is a writer, consultant, and speaker on the intersection of entrepreneurship, media, civic engagement, and social identity. He is a visiting researcher at the Woodrow Wilson School of Public and International Affairs at Princeton University.
or
Not Currently Available for Direct Purchase