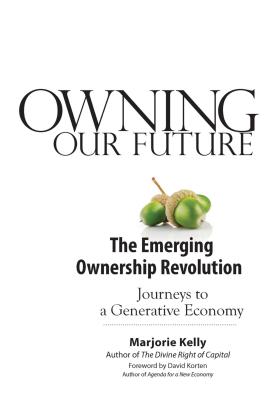 Owning Our Future: The Emerging Ownership Revolution (Paperback)
The Emerging Ownership Revolution
Berrett-Koehler Publishers, 9781605093109, 246pp.
Publication Date: June 4, 2012
Description
All of the current attempts to address the economic collapse are overlooking an essential factor: ownership. So long as businesses are set up to focus exclusively on maximizing monetary returns per quarter for a narrow group of individuals the economy will be subject to crippling boom-and-bust cycles. But now people are experimenting with new forms of enterprise ownership--we are in the midst of the most creative period of economic innovation since the dawn of the Industrial Revolution. Marjorie Kelly calls these new forms generative: life-serving, aimed at creating the conditions for life for many generations to come. They are in contrast to the dominant ownership designs of today, which can be called extractive: aimed at extracting maximum short-term financial wealth.
To understand these emerging ownership alternatives, Kelly reports from all over the world, visiting a community-owned wind facility in Massachusetts, a lobster cooperative in Maine, a multi-billion-dollar employee-owned firm in London, a foundation-owned pharmaceutical in Denmark, a farmer-owned dairy in Wisconsin, and other places where an economy that works for all is being built.
This is not a moment for old solutions and tired approaches. As we enter a new era of limits, alternative ownership designs can help it become a new era of fairness, sustainability, and community.
About the Author
Marjorie Kelly is a Fellow at Tellus Institute and Director of Ownership Strategy with Cutting Edge Capital. She consults with private companies and leads research projects for the Ford Foundation, Rockefeller Foundation, and others. She co-founded Corporation 20/20, a project to create the vision for the future corporation. Kelly was the co-founder and for 20 years president of Business Ethics magazine. Her writings have appeared in publications such as the Harvard Business Review, Utne Reader, Chief Executive, Tikkun, E Magazine, and Yes Magazine.

Foreword Author David Korten is an author, president and founder of the People-Centered Development Forum, and board member of the Business Alliance for Local Living Economies (BALLE). He is an associate of the International Forum on Globalization and a member of the Club of Rome. Some of his bestselling titles include The Great Turning and When Corporations Rule the World. He is a regular guest on talk radio and television and a popular speaker at conferences around the world.
Advertisement