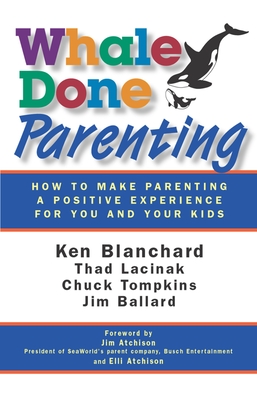 Whale Done Parenting (Paperback)
How to Make Parenting a Positive Experience for You and Your Kids
Berrett-Koehler Publishers, 9781605093482, 176pp.
Publication Date: October 19, 2009
* Individual store prices may vary.
Description
"How is it they can get a killer whale to urinate on cue, and we can't get our son to pee into the toilet?"

Amy Sheldrake, young mother and killer whale trainer-in-training, marvels at the complex behaviors her superiors at SeaWorld are able to coax out of these enormous beasts, while she and her husband struggle to make their beloved—and much smaller—son Josh obey the simplest rules. Using the story approach popularized by Ken Blanchard in his many bestsellers, this unique parenting book draws on the experiences of two of the coauthors—as both pioneering marine mammal trainers and as parents—to show how the same principles that induce killer whales to leap into the air can persuade young children to go quietly to bed.

Like Amy and her husband Matt, once you get the hang of the three Whale Done principles, you'll see a dramatic difference in overcoming challenges like following bedtime routines, dealing with tantrums, introducing new foods, sharing, avoiding overuse of the word no, learning to care for a pet, and instituting time-outs.
About the Author
Jim Ballard is an educator, corporate trainer, and writer.
Ken Blanchard is the author of several bestselling books, including the blockbuster international bestseller The One Minute Manager®. He is Chief Spiritual Officer of the Ken Blanchard Companies.
Thad Lacinak is founder and co-owner of a behavioral consulting company, Precision Behavior.
Chuck Tompkins is Corporate Curator of Zoological Operations for Busch Entertainment Corporation.
Praise For Whale Done Parenting: How to Make Parenting a Positive Experience for You and Your Kids…
"When we instituted a Whale Done-based program at Schaeffer Elementary we saw suspensions go down 95 percent, and math and reading proficiency improved dramatically. These principles work—kids really respond!"
—Cynthia Zurchin, Principal, Schaeffer Elementary School, Pittsburgh

"We long to be better parents who, with our kids, make a better world, and Whale Done Parenting helps us do just that. If you want to raise good kids and see more smiling and less scolding in your household, read this book!"
—Naomi Cramer Overton, President, Mothers of Preschoolers International

or
Not Currently Available for Direct Purchase