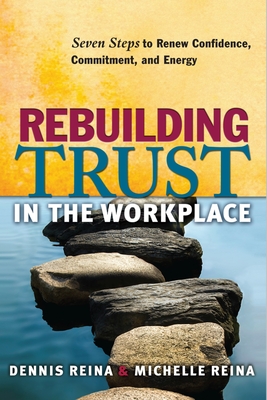 Rebuilding Trust in the Workplace
Seven Steps to Renew Confidence, Commitment, and Energy
Paperback

* Individual store prices may vary.
Other Editions of This Title:
Digital Audiobook (10/2/2010)
Description
If so, you may be experiencing the confidence-busting, commitment-breaking, energy-draining patterns consistent with broken trust. We've all been there, but few of us know how to rebuild that trust. Dennis and Michelle Reina have spent their careers researching and measuring workplace trust. In this sequel to their award-winning Trust and Betrayal in the Workplace, they offer everyone involved a proven process for healing: the person hurt, the person who hurt someone else, and the person wanting to help others. No matter your vantage point, this compassionate, practical book will help you reframe the experience, take responsibility, let go, and move on. The result? You'll feel more energized and once again give your organization your best thinking, highest intention, and greatest productivity.
Praise For Rebuilding Trust in the Workplace: Seven Steps to Renew Confidence, Commitment, and Energy…
"The definitive book on sustaining trust in your organization. Dennis and Michelle Reina have created a practical manual for understanding, building, and rebuilding trust in working relationships."
—Paul Rosner, Chief Information Officer, Energy Coal, BHP Billiton, Sydney, Australia

"The Reinas' true-to-life stories inspired me to reframe broken trust and arrive in a place of renewed energy and understanding."
—Peggy Niemer, Corporate Vice President, Human Resources, Children's Hospital and Health System

"Dennis and Michelle demonstrate their profound understanding of the human spirit and human frailties—and their ability to step back and observe the strengths that can come from both. I believe this book is for everyone in relationships everywhere, not just those in the workplace."
—Stephen H. Rhinesmith, PhD, coauthor of Head, Heart, and Guts

"Michelle and Dennis Reina are at the forefront of helping leaders understand the importance of trust in building high performance organizations. Rebuilding Trust in the Workplace presents actionable concepts that leaders can put to immediate use in rebuilding trust in relationships in the workplace as well as at home."
—Deborah Garrett, Vice President, Human Resources, Intuit

"The principles in this book have had an important and valuable influence on how members of our team talk to each other, how we treat each other, and how we expect to be treated by others. The Reinas' work has given us a gift that allowed us to move forward. We found a path to becoming better individuals and teammates." 
—David J. Whaley, Vice President, Development and Alumni Relations, Norwich University

"As organizations become more diverse, trust emerges as a critical prerequisite for the conversations necessary to align different world views in support of a common mission and vision. Rebuilding Trust in the Workplace breaks this seemingly complex issue into kaizen-like steps that can help employees, supervisors, and leaders effectively manage and best leverage a multicultural workforce."
—Harry R. Gibbs, MD, Chief Diversity Officer, MD Anderson Cancer Center, Houston

"Given that trust is fragile—it can be built and broken—knowing how to rebuild trust is essential. Rebuilding Trust in the Workplace offers practical advice and guidance for how to build and bolster trust. And effective leaders know that trust is the foundation for the kind of engagement that drives high quality, sustainable results."
—Sue Hoffman, Program Manager, Talent Acquisition, 3M

"As a multi-dimensional non-profit agency, we see the demand for our services at an all-time high. With pressure on staff and stress in relationships peaking, I will use this book daily in my work with managers and our teams. I know its advice will produce great results."
 —Jill C. Dagilis Executive Director, Worcester Community Action Council

"By applying the Reinas' proven methods and tools for rebuilding trust, you will come to learn more about yourself and others. You will also learn how to create and sustain the strong relationships that are necessary to navigate today's complex environment. Read this practical, easy-to-read book and turn the elusive trust we all seek into reality!"
—Kate Beatty, Director, Global Portfolio Management, Center for Creative Leadership

"Trust is a fragile thing—easy to break and hard to repair—but rebuilding trust is a job you cannot ignore if you want a thriving workplace.  Don't miss this book.  The trust you rebuild may be in yourself." 
—John Kador, author of Effective Apology

"This book speaks to managers as imperfect beings—the reality is that in our work organizations, we have the potential to inadvertently be on both sides of a complex trust issue, feeling betrayed and instigating betrayal.  Rebuilding Trust in the Workplace not only explains this paradox but also shows how to reflect internally and then take action."
—Thom Johnston, President, New England School of Communications

"Workplace trust is at an all-time low. Fortunately there is help within the pages of Rebuilding Trust in the Workplace.  Dennis and Michelle Reina adeptly describe the issues underpinning the loss of trust while giving readers ways to reframe their thinking. The authors also provide pragmatic steps that can be put to use immediately to rebuild trust among coworkers."
—Jon Peters, President, The Institute for Management Studies

"There has never been a greater sense of the loss of trust in the religious community than there is today. Every congregational member or clergy leader has found himself or herself at one or more of the vantage points of betrayal outlined in Rebuilding Trust in the Workplace, whether we realize it or not, for broken trust is all around us. Thank goodness we now have a road map in the form of this approachable, compassionate book."
—Rev. Phill Martin, CAE, CCA, Deputy CEO, National Association of Church Business Administration

"Rebuilding Trust in the Workplace is equally powerful in both one-on-one relationships and group settings. A central theme in the book involves taking responsibility, whether you are the betrayer or the victim, in order to move forward in the healing process. The book offers practical yet thought-provoking advice and provides an excellent framework for rebuilding trust."
—Barbara Kimmel, Executive Director, Trust Across America

"Dennis and Michelle Reina walk the reader through a process that can lead beyond personal feelings and reactions to effective resolution. This book addresses a very important missing link in most companies' handling of human resource issues!"
—Randy Spencer, Vice President for Residential Services, Presbyterian Children's Homes & Services

"Rebuilding Trust in the Workplace is a very useful guide that provides an easy-to-understand process, a helpful framework, a variety of real-world examples, useful tips and memorable quotations. I appreciated the well-rounded perspective that addresses both the betrayed and betrayer, invokes both compassion and courage, and details how to give to yourself and others."
—Simon Hayward, Managing Partner, Cirrus, Cheshire, UK

"This book will help individuals heal their relationships with intention and courage. It provides a proven path to reclaim trust and restore the relationships that underpin satisfaction, performance, and achievement at work."
—Leslie Yerkes, President, Catalyst Consulting Group, Inc. and Adjunct Faculty member, Case Western Reserve University, and author of Fun Works and They Just Don't Get It!

"As a leader, I'm always looking for tools that will help supervisors, whether at the executive level or on the front lines, be the best managers they can be. In this book, I found such a tool. Its practical model and real-life stories make it accessible and effective for anyone tackling the challenge of broken trust."
—Ted A. Mayer, Executive Director, Harvard University Hospitality and Dining Services

"Rebuilding trust should be a competency required of all leaders and all individual contributors across all organizations. Dennis and Michelle Reina tell us how to hone the skills that will prepare us to repair damaged relationships. All who read Rebuilding Trust in the Workplace will come away with a deeper understanding of themselves and a greater appreciation of others."
—Beverly Kaye, Founder and CEO, Career Systems International and coauthor of Love 'Em or Lose 'Em

"Do you have a hard time winning back the hearts of your employees? Has your team become paranoid? Do you wonder what to do and where to start? If so, your top priority should be reading Rebuilding Trust in the Workplace. You'll find valuable insights to spot trust-breakers and practical tips to shepherd the healing process."
—Philippe Masson, Founding Partner and President, MyDevelopment.Pro, Paris, France

"We all know that people, performance and profits suffer when trust is broken. Dennis and Michelle Reina provide step-by-step guidance for healing personally and organizationally. Follow their sage advice to re-establish leadership credibility and create a positive emotional environment in your organization."
—Diana Whitney, PhD, President, Corporation for Positive Change and author of Appreciative Leadership

"Trust is at the core of the best schools I have worked in and visited, and it is evident in each school's top educators and administrators. Yet it's hard to imagine a group of organizations more in need of trust rebuilding than our public schools. I hope all schools tap into this book, for Dennis and Michelle provide clear, proven steps on strengthening the trustful relationships that are essential among students, teachers, parents, and administrators."
—Heidi Berlyak, Owner, LearningReviews.com

"Rebuilding Trust in the Workplace is likely to be one of the most important books on workplace relationships you will ever read.  Full of compelling and moving real life examples, it speaks directly to you, draws you in and makes you feel part of the story. There were times, in fact, when I thought I was the person they were writing about.   Dennis and Michelle Reina are exceptional coaches who walk you through a proven process. From the first page to the last, you will find useful things you can do immediately to heal a broken relationship and steer it back to one that's renewing and productive. Do yourself a big favor and buy this book now, read it tonight, and put it to use tomorrow. You'll thank yourself and so will those you work with."
—Jim Kouzes, coauthor of The Leadership Challenge and The Truth About Leadership and Dean's Executive Professor of Leadership, Leavey School of Business, Santa Clara University
Berrett-Koehler Publishers, 9781605093727, 192pp.
Publication Date: October 3, 2010
About the Author
Dr. Dennis and Dr. Michelle Reina are cofounders of the Reina Trust Building Institute. Their clients include American Express, AstraZeneca, Nokia, MillerCoors, the US Army Corps of Engineers, Harvard, Yale, and Walt Disney World. Their book Trust and Betrayal in the Workplace won a 2007 Nautilus Book Award and a 2008 Axiom Business Book Award.
Dr. Dennis and Dr. Michelle Reina are cofounders of the Reina Trust Building Institute. Their clients include American Express, AstraZeneca, Nokia, MillerCoors, the US Army Corps of Engineers, Harvard, Yale, and Walt Disney World. Their book Trust and Betrayal in the Workplace won a 2007 Nautilus Book Award and a 2008 Axiom Business Book Award.
or
Not Currently Available for Direct Purchase