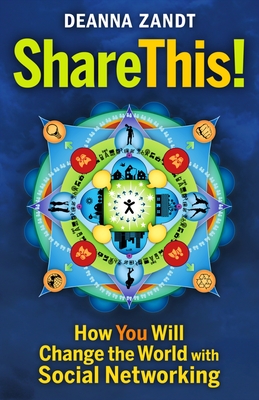 Share This!
How You Will Change the World with Social Networking
Paperback

* Individual store prices may vary.
Other Editions of This Title:
MP3 CD (8/16/2016)
Description
Social networks can be so much more than a way to find your high school friends or learn what your favorite celebrity had for breakfast. They can be powerful tools for changing the world. With Share This! both regular folks of a progressive bent and committed activists can learn how to go beyond swapping movie reviews and vacation photos (not that there's anything wrong with that).

At the moment the same kinds of people who dominate the dialog off-line are dominating it online, and things will never change if that doesn't change. Progressives need to get on social networks and share their stories, join conversations, connect with others—and not just others exactly like themselves. It's vital to reach out across all those ethnic/gender/preference/class/age lines that exist even within the progressive camp. As Deanna Zandt puts it, "creating a just society is sort of like the evolution of the species—if you have a bunch of the same DNA mixing together the species mutates poorly and eventually dies off."

But there are definitely dos and don'ts. Zandt delves into exactly what people are and are not looking for in online exchanges. How to be a good guest. What to share. Why authenticity is more important than just about anything, including traditional notions of expertise or authority. She addresses some common fears, like worrying about giving too much about yourself away, blurring the lines between your professional and personal life, or getting buried under a steaming heap of information overload. And she offers detailed, nuts-and bolts "how to get started" advice for both individuals and organizations.

The Internet is upending hierarchies and freeing the flow of information in a way that makes the invention of the printing press seem like an historical footnote. Share This! shows how to take advantage of this unprecedented opportunity to make marginalized voices heard and support real, fundamental change—and, incidentally, have some fun doing it.
Praise For Share This!: How You Will Change the World with Social Networking…
"If you are an activist or a concerned citizen and you are new to social media, start with Share This! Deanna Zandt has deep knowledge, broad experience, a knack for clear and simple explanation, a talent for storytelling, and a wonderfully engaging voice."
—Howard Rheingold, author of Smart Mobs and lecturer, University of California, Berkeley, and Stanford University
 
"Deanna Zandt is right on target—social media is a new frontier for social justice.  The world may indeed be a better place if we all tell our stories authentically and fearlessly and listen to one another with open hearts."
—Cecile Richards, President, Planned Parenthood Federation of America

"When Deanna Zandt writes that sharing is daring, she expresses the logic of the age, where a shift from hoarding to sharing can provide incredible social leverage. Think of Share This! as a manifesto for social engagement and as a manual for positive change."
—Clay Shirky, author of Here Comes Everybody

"This book is perfectly timed and brilliantly balanced between reality and inspiration. Social media won't change the world on its own, but with active, informed, and conscious participation, we can."
—Baratunde Thurston, comedian, blogger, and Web Editor, The Onion

Berrett-Koehler Publishers, 9781605094168, 192pp.
Publication Date: June 7, 2010
About the Author
Deanna Zandt is a media technologist and consultant to key progressive media organizations, including AlterNet.org and Jim Hightower's Hightower Lowdown.
or
Not Currently Available for Direct Purchase