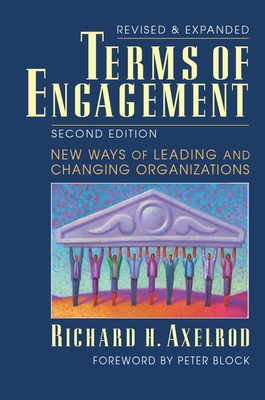 Terms of Engagement: New Ways of Leading and Changing Organizations (Paperback)
New Ways of Leading and Changing Organizations
Berrett-Koehler Publishers, 9781605094472, 228pp.
Publication Date: October 11, 2010
Description
NEW EDITION, REVISED AND UPDATED
Building engagement is crucial for every organization. But the traditional top-down coercive change management paradigm--in which leaders "light a fire" under employees--actually discourages engagement. Richard Axelrod offers a better way. After debunking six common change management myths, he offers a proven, practical strategy for getting everyone--not just select committees or working groups--enthusiastically committed to organizational transformation. This revised edition features new interviews--everyone from the vice president of global citizenship at Cirque du Soleil to a Best Buy clerk--and new neuroscience findings that support Axelrod's model. It also shows how you can foster engagement through everyday conversations, staff meetings, and work design.
About the Author
Richard (Dick) Axelrod is a founder of and principal in The Axelrod Group, Inc. - a consulting firm focusing on employee-involvement to affect large-scale organizational change. Before forming The Axelrod Group, Dick was an organization development manager for General Foods, which was the first company in America to use self-directed work teams (a strategy whose philosophy made a great impact on the young manager). He now brings twenty-five years of consulting and teaching experience to his work, with clients including Boeing, Coca-Cola, Corning, First Union, Ford, Harley-Davidson, Hewlett-Packard, Intel, Kraft, and 3M.

Foreword author Peter Block is an organizational development guru and author of many successful books including "Flawless Consulting" and "Community."
Praise For Terms of Engagement: New Ways of Leading and Changing Organizations…
"Over 70 percent of organization change efforts fail. Clearly, change management needs an overhaul. Just as clearly, Dick Axelrod has provided the tools for reformation. Engaging people may seem obvious, but how to do it is not. This highly useful book provides enlightenment for the not-so-obvious."—Warner Burke, PhD, Edward Lee Thorndike Professor of Psychology and Education and Chair, Department of Organization and Leadership, Teachers College, Columbia University
 "Why is
Terms of Engagement
an enduring classic? Because its insights are rooted in a deep understanding of how people in organizations actually think and work. Timeless wisdom in a profoundly engaging form."—Sally Helgerson, coauthor of
The Female Vision
and author of
The Female Advantage
and
The Web of Inclusion
 "A manual on closing the gap between how an organization's people need to change and how they can and want to change."—Art Kleiner, Editor-in-Chief, Strategy+Business  "Brings together solid neuroscience research with simple, clear frameworks and tells a great story to make it all easy to digest."—David Rock, founder, Results Coaching Systems; cofounder, The NeuroLeadership Institute; and author of
Your Brain at Work
Advertisement