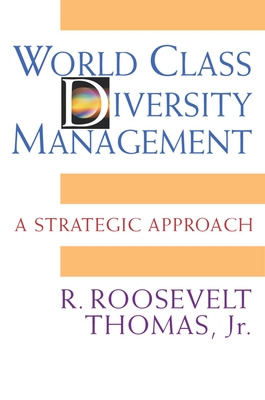 World Class Diversity Management
A Strategic Approach
Hardcover

* Individual store prices may vary.
Description
Globalization is transforming the very nature of our business relationships, decision-making processes, and interactions, making world-class diversity management more needed than ever before. But until now, the field of diversity had no established standard for evaluating best practices, or even agreement on fundamental philosophies, principles, and concepts. In this pioneering book, the world's leading diversity authority proposes a framework that will facilitate the development of a truly world-class standard for diversity management.

R. Roosevelt Thomas begins by laying out his Four Quadrant model, which encompasses all core diversity strategies: managing workforce demographic representation, managing demographic relationships, managing diverse talent, and managing all strategic diversity mixtures. He analyzes the goals, motives, approaches, accomplishments, and challenges associated with each quadrant, as well as the paradigm or mindset that lies behind each quadrant's express purpose.

Having laid out this broad range of strategies, Thomas shows how to realize them through the Strategic Diversity Management Process™, by far the most effective method for implementation. A detailed case study of CEO Jeff Kilt—a fictional composite of the many executives Thomas has worked with—effectively illustrates the complexities encountered when working with each of the Four Quadrant strategies in the real world.
This book offers a comprehensive blueprint that will enable leaders to address any diversity issue (not just race or gender) in any setting, anywhere in the world. Most important, it proves that a world-class standard of diversity management is indeed a possible and achievable goal.
Praise For World Class Diversity Management: A Strategic Approach…
"The most important work in the field of diversity that I have read in recent years. It displays amazing insight into the challenges of the current state of managing diversity yet ignites the imagination about what is truly possible. A must-read book for every CEO, senior leader and professional practitioner of diversity in any industry."
—Frederick D. Hobby, President, Institute for Diversity in Health Management, American Hospital Association

"This is an indispensable book for any leader or talent management professional who wants to support the progress of a diversity initiative. Dr. Thomas has spent a lifetime providing us with models that have refined and extended our thinking."
—Beverly Kaye, founder and CEO, Career Systems International, and coauthor of Love 'Em or Lose 'Em and Love It, Don't Leave It

"Dr. Thomas is a true pioneer in the field of strategic diversity management. This book is a continuation and extension of his decades-long legacy of thought leadership. His insights and approach are a targeted guide to what's needed to thrive in the future and allow all of us— organizations and individuals—to reach our full potential."
—Mike Prokopeak, Vice President and Editorial Director, MediaTec, publisher of Diversity Executive, Talent Management, and Chief Learning Officer

"The trials, tribulations, and opportunities facing fictional CEO Jeff Kilt in the latter part of the book sound all too familiar! Kilt is a composite of many well-intentioned leaders who lack a framework or process to achieve world-class status—a case study on the shortcomings of good intentions alone. For those who have wondered what's next in the field of strategic diversity management, this guide is it."
 —David L. Casey, Vice President and Diversity Officer, CVS Caremark

"Roosevelt Thomas stimulates the reader with a compelling conceptualization, authentic examples, and thought-provoking analogies, such as how changing an organizational culture is comparable to changing an individual's personality."
—David A. Kravitz, Professor and Management Area Chair, School of Management, George Mason University

"This important book provides fresh insights and a strategic process that will assist governments and market-based leadership in developing national diversity policies and strategies."
—Robert L. Lattimer, Senior Fellow, Diversity Studies, Rutgers University
Berrett-Koehler Publishers, 9781605094502, 312pp.
Publication Date: August 2, 2010
About the Author
R. Roosevelt Thomas, Jr., is CEO of Roosevelt Thomas Consulting & Training, Inc., and is founder and senior research fellow of the American Institute for Managing Diversity. Recognized by the Wall Street Journal as one of the top ten consultants in the country and cited by Human Resource Executive as one of HR's Most Influential People, he is a sought-after speaker and the author of several books, including Building on the Promise of Diversity, Beyond Race and Gender, and Building a House for Diversity.
or
Not Currently Available for Direct Purchase