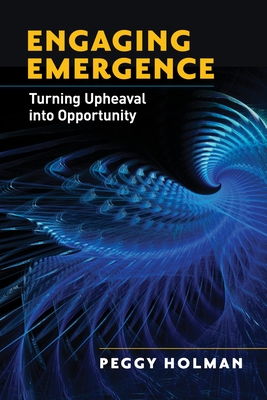 Engaging Emergence: Turning Upheaval Into Opportunity (Paperback)
Turning Upheaval Into Opportunity
Berrett-Koehler Publishers, 9781605095219, 241pp.
Publication Date: September 13, 2010
Description
What's Possible Now?
Change is everywhere these days--at times it seems like barely controlled chaos. Yet within this turmoil are the seeds of a higher order. When a new system arises from the ashes of the old, science calls the process "emergence." By engaging it, you can help yourself and your organization or community to successfully face disruption and emerge stronger than ever.
In this profound, award winning (2011 Nautilus Gold medal winner) book, Peggy Holman offers principles, practices, and real-world stories to help you work with compassion, creativity, and wisdom through the entire arc of change--from disruption to coherence. You'll learn what to notice, what to explore, what to try, and what mindset opens new possibilities.
This work can be challenging but also tremendously rewarding. It enables new and unlikely partnerships and develops breakthrough projects. You become part of a process that transforms the culture itself.
"Very useful in giving structure and form to ways of dealing with the unpredictable and volatile way the world comes at us. A powerful antidote to the change management illusion that the future can be driven, engineered, managed, and drilled."
--Peter Block, author of "Community"
"A dance manual for how to move gracefully with the disruption, uncertainty, and mystery that are part of life's rhythms, how to welcome interruption and discontinuity as opportunities for creativity, community, and greater capacity."
--Margaret J. Wheatley, author of "Leadership and the New Science"
"Provides practical advice for orchestrating conflict and moving through discomfort to reach a new coherence."
--Ronald Heifetz and Marty Linsky, cofounders of Cambridge Leadership Associates and coauthors of "Leadership on the Line and The Practice of Adaptive Leadership

About the Author
Peggy Holman is a management and training consultant for business, non-profit, and governmental organizations. She is a co-founder and board member of the Open Space Institute, which supports learning and practices for self-organization in our social systems. She collaborated in creating "Journalism that Matters," a network of conversations among journalists that is generating new roles and organizational forms for today's emerging information-sharing, open source society. She also developed a theory of emergence in social systems that describes how diversity and dissonance can bring forth emergent insights, deep community, and coherent action. Peggy Holman is a co-author of the first and second editions of "The Change Handbook: The Definitive Resource on Today's Best Methods for Engaging Whole Systems."
Advertisement