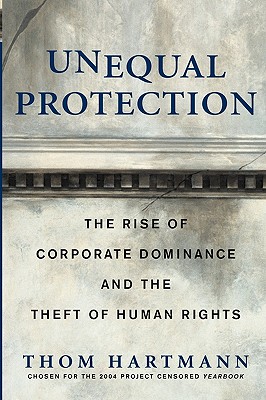 Unequal Protection
The Rise of Corporate Dominance and the Theft of Human Rights
Paperback

* Individual store prices may vary.
Other Editions of This Title:
Paperback (6/7/2010)
Description
Unequal taxes, unequal accountability for crime, unequal influence, unequal control of the media, unequal access to natural resources—corporations have gained these privileges and more by exploiting their legal status as persons. How did something so illogical and unjust become the law of the land?
Americans have been struggling with the role of corporations since before the birth of the republic. As Thom Hartmann shows, the Boston Tea Party was actually a protest against the British East India Company—the first modern corporation. Unequal Protection tells the astonishing story of how, after decades of sensible limits on corporate power, an offhand, off-the-record comment by a Supreme Court justice led to the Fourteenth Amendment—originally passed to grant basic rights to freed slaves—becoming the justification for granting corporations the same rights as human beings. And Hartmann proposes specific legal remedies that will finally put an end to the bizarre farce of corporate personhood.
This new edition has been thoroughly updated and features Hartmann's analysis of two recent Supreme Court cases, including Citizens United v. Federal Election Commission, which tossed out corporate campaign finance limits.
Praise For Unequal Protection: The Rise of Corporate Dominance and the Theft of Human Rights…
"If you wonder why and when giant corporations got the power to reign supreme over us, here's the story."
—Jim Hightower, national radio commentator and author of Swim Against the Current

"Beneath the success and rise of American enterprise is an untold history that is antithetical to every value Americans hold dear. This is a seminal work, a godsend really, a clear message to every citizen about the need to reform our country, laws, and companies."
—Paul Hawken, coauthor of Natural Capitalism and author of The Ecology of Commerce

"Hartmann combines a remarkable piece of historical research with a brilliant literary style to tell the grand story of corporate corruption and its consequences for society with the force and readability of a great novel."
—David C. Korten, author of When Corporations Rule the World and Agenda for A New Economy

Berrett-Koehler Publishers, 9781605095714, 368pp.
Publication Date: November 30, 2009
About the Author
Thom Hartmann is the nation's leading progressive talk radio host, heard on over a hundred stations, as well as on XM and Sirius radio, and seen on live nationwide television via the Free Speech TV network. He is the bestselling author of eighteen books, including Threshold, Screwed, and Cracking the Code.
or
Not Currently Available for Direct Purchase