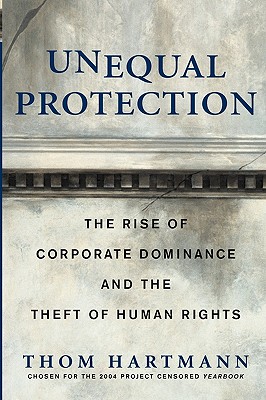 Unequal Protection: The Rise of Corporate Dominance and the Theft of Human Rights (Paperback)
The Rise of Corporate Dominance and the Theft of Human Rights
Berrett-Koehler Publishers, 9781605095714, 360pp.
Publication Date: November 1, 2009
* Individual store prices may vary.
or
Not Currently Available for Direct Purchase
Description
Was the Boston Tea Party the first WTO-style protest against transnational corporations? Did Supreme Court sell out America's citizens in the nineteenth century, with consequences lasting to this day? Is there a way for American citizens to recover democracy of, by, and for the people?

Thom Hartmann takes on these most difficult questions and tells a startling story that will forever change your understanding of American history. Amongst a deep historical context, Hartmann the describes the history of the Fourteenth Amendment--created at the end of the Civil War to grant basic rights to freed slaves--and how it has been used by lawyers representing corporate interests to extend additional rights to businesses far more frequently than to freed slaves. Prior to 1886, corporations were referred to in U.S. law as "artificial persons." But in 1886, after a series of cases brought by lawyers representing the expanding railroad interests, the Supreme Court ruled that corporations were "persons" and entitled to the same rights granted to people under the Bill of Rights. Since this ruling, America has lost the legal structures that allowed for people to control corporate behavior.
 
About the Author
National radio host THOM HARTMANN is the award-winning, best-selling author of fourteen books currently in print in more than a dozen languages on four continents. Hartmann is also an entrepreneur, an internationally known speaker on culture and communications, and an innovator in the fields of psychiatry, ecology, and economics. The former executive director of a residential treatment program for emotionally disturbed and abused children, he has helped set up hospitals, schools, famine relief programs, and communities for orphaned or blind children in India, Africa, Australia, South America, Europe, Israel, Russia, and the United States. Thom is the host of a wildly popular national radio program on the Dial-Global network, which is broadcast during radio prime time on stations from coast-to-coast and on satellite radio. He lives in Portland, Oregon, with his wife, Louise. You can find him on the Web at www.thomhartmann.com.
Advertisement