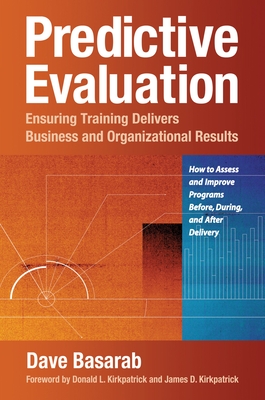 Predictive Evaluation: Ensuring Training Delivers Business and Organizational Results (Paperback)
Ensuring Training Delivers Business and Organizational Results
Berrett-Koehler Publishers, 9781605098241, 200pp.
Publication Date: January 10, 2011
Description
This work supports a process called Predictive Evaluation (PE) which enables practitioners to provide executives with compelling training data around the success of training in the three areas of Intention, Adoption, and Impact. PEalso works to determine whether success has been achieved, and provides lead indicators of future adoption (transfer of learning) along with recommendations for continuous improvement. PE provides measurement dashboard along with tactics for improving results. Predicting, the core operational concept in this approach, is a "before-the-fact" method which allows key decision makers to select the best training programs to support company strategy and operating plans. Another way to think about this model is: Predicting is before-the-fact to decide if to train.Evaluating is after-the-fact measurement against the predictions. There are four ways that the PE approach differs from other models in the field, namely: 1. Whereas traditional approaches focus on costs and numbers, not on forecasting financial return, PE focuses on the predicted impact and its value-add to the organization. 2. Whereas traditional approaches view evaluation as after-the-fact with no measures of success, PE employs repeated measures that mirror employees' path to improved performance with predicted 'success gates'. 3. Whereas ROI and/or Cost-Benefit evaluations traditionally rely on subjective estimates, PE provides concrete, business-focused and evidence-based data on return on investment and does not use statistical averages based on subjective estimates of improved performance or productivity. 4. Whereas existing approaches work on an after-the-fact basis with one-off programs, PE offers a determined prediction of the extent of transfer and impact and works well with programs that have repeated deliveries over a period of time. Lacking the information that PE provides, decision makers could fail to support those training programs that have the greatest potential for producing significant value to the company. When decision makers decide to spend large sums of money on training, they seek to evaluate their options as they evaluate other large investments - that is so on the basis on financial returns to the company. This work shows those decision makers how to accurately determine the potential ROI on such training programs before committing to them.
About the Author
David Basarab is the founder of V.A.L.E. Consulting, a training and learning evaluation consultancy, and co-author of "The Training Evaluation Process." David's work focuses on learning and training strategies. David has decades of experience in learning and managing the education of global executives and has designed and taught programs for leadership and general management, sales training and customer software applications. In 2005, David was awarded the "2005 Learning Innovation Award" from Chief Learning Officer Magazine and was featured in a Wall Street Journal article on using business simulations in leadership development. David also led the Pitney Bowes Employee Development and Performance organization for U.S. sales to a top ranking as one of Training magazine's "Top 100 for 2005." Foreword authors Donald and James Kirkpatrick are the authors of Implementing the Four Levels, and Transferring Learning to Behavior.
Advertisement