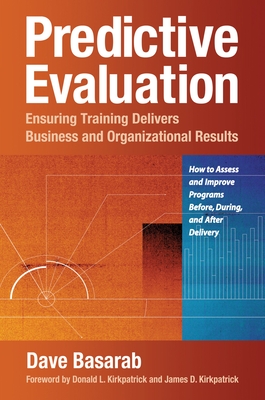 Predictive Evaluation
Ensuring Training Delivers Business and Organizational Results
Paperback

* Individual store prices may vary.
Description
At last, an answer to the question that has bedeviled trainers for decades. Predictive evaluation enables you to effectively and accurately forecast training's value to your company, measure against these predictions, establish indicators to track your progress, make midcourse corrections, and report the results in a language that business executives respond to and understand.
Dave Basarab explains how to begin by identifying the specific goals and beliefs you want to instill in participants. The next step is to determine exactly what these will look like when put into action. Finally you develop quantifiable measures of how employees' adopting the target beliefs and goals will impact the business. A key strength of this process is that it is profoundly collaborative—supervisors and employees work together to establish standards for success each step of the way. A how-to guide filled with worksheets, examples, and other tools, Predictive Evaluation ensures that, rather than being regarded as an expense and an act of faith, training will be seen as an investment with a concrete payoff.
Praise For Predictive Evaluation: Ensuring Training Delivers Business and Organizational Results…
"With his innovative Predictive Evaluation model, Dave will transform 21st-century training evaluation. Written from the viewpoint of an experienced practitioner, Dave provides a road map for truly forecasting the business impact of training prior to making the investment."
—Rita Smith, Vice President of Enterprise Learning, Ingersoll Rand University

"I have seen all too often the missed opportunities when training is followed up on ineffectively or not at all. Predictive Evaluation outlines a process that not only measures effectiveness but also includes strategies to ensure the skills are adopted and ROI is maximized. The practices outlined here are the best I have seen."
 —Bob Branson, President, TACK-USA

"By utilizing Predictive Evaluations, we are able to enhance our training during the design and delivery phases to optimize and gain the desired results. This book is a must-read for anyone looking to analyze the cost/benefit and justify training for an organization!"
—Melodi Ramirez Tripp, Director of Engineering Planning and Administration, BNSF Railway Company

"Dave Basarab has succeeded in identifying a realistic way to evaluate training. Having the three elements—intention evaluation, adoption evaluation, and impact evaluation—gives the training community the ability to measure training's effectiveness throughout the process. The challenges we all have had to face when attempting a ROI model are addressed in Dave's book. I found Predictive Evaluation engaging, practical, and insightful."
—Charleen Allen, Director, Global Learning & Development, Baker Hughes, Inc.

"Predictive Evaluation is an innovative and at the same time practical, step-by-step guide to training evaluation. Full of Dave Basarab's keen insights into the link between training success and evaluation, it clearly illustrates how to integrate training 'intention, adoption, and impact' to get the results you want. Its wisdom, applicable to both new and existing training programs, is especially relevant in these challenging economic times. Basarab's evaluation processes are by far the best way to ensure the business value of all of your training initiatives."
—Diana Whitney, President, Corporation for Positive Change, and coauthor of Appreciative Leadership and The Power of Appreciative Inquiry

"It is becoming increasingly more critical to demonstrate value when investing resources in training programs. Dave's method offers a tangible way to assess a program's impact to the bottom line before spending the money, which gives significant credibility to training professionals."
—Lily Prost, Global Director of People and Organization Development, Merial Limited

"Dave provides clear and easy-to-follow step-by-step instructions on how to make sure that all your good needs analysis and effective instructional design are put to use in service of having the desired impact on your organization. He describes specific processes to be sure that the right data is uncovered, the details are specified, and external factors impacting value are recognized and considered. He provides detailed guidelines on how to collect and analyze data related to adoption of new skills, knowledge, and behavior. This book will help anyone struggling to show the value of training—before the training has been implemented and after."
—Christy Pines, Manager, Learning Services, Canon USA

"Predictive Evaluation provides step-by-step guidance to the novice as well as the experienced practitioner in how to make data-driven decisions about the value and worth of a program. Dave Basarab is providing a real service to those who struggle to show their training is making a difference."
—Marguerite J. Foxon, Principal, Performance Improvement Consulting

"Predictive Evaluation is more than just a training measurement guide; it is a valuable ROI tool for executive educators and business leaders alike. That's why it's a must-read."
—John Sullivan, Project Director, Duke Corporate Education

"Dave Basarab has created a unique approach to measure training ROI and found a powerful way to calculate how training investments can be linked to business results. This book is a must-read for any learning leader who wants to have a seat at the executive table."
—Bjorn Billhardt, CEO, Enspire Learning, Inc.

"We all know the adage 'Start with the end in mind.' This book helps us apply that concept when evaluating training and in so doing enables us to continuously target improvements in training programs as well as measure the impact of training to the bottom line of our business. A unique and useful approach to training evaluation."
—Dr. Debby King-Rowley, Director, Burlington Group, Melbourne, Australia

"In 1999 David van Adelsberg and Edward A. Trolley wrote a book titled Running Training Like a Business. Now my former colleague Dave Basarab has added new insights and tools in this book. It is a must-read for all executives looking to make solid, mindful decisions about the development of their people and the impact training will have on their business results."
—John Marohl, Senior Consultant, Marohl Consulting, Inc.

Berrett-Koehler Publishers, 9781605098241, 168pp.
Publication Date: January 3, 2011
About the Author
Dave Basarab is the founder of V.A.L.E. Consulting. In 2005 he was awarded the Learning Innovation Award from Chief Learning Officer magazine. He is also the coauthor of The Training Evaluation Process.
or
Not Currently Available for Direct Purchase