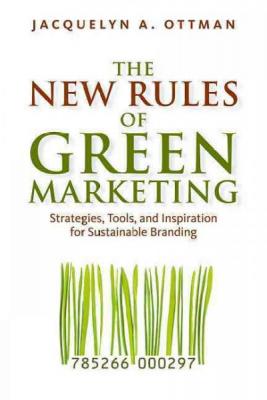 The New Rules of Green Marketing: Strategies, Tools, and Inspiration for Sustainable Branding (Paperback)
Strategies, Tools, and Inspiration for Sustainable Branding
Berrett-Koehler Publishers, 9781605098661, 252pp.
Publication Date: February 14, 2011
Description
Green products have been around since the 1970s, but it's only in recent years that they ve become ubiquitous. It's not because consumers suddenly prize sustainability above all. It's because savvy green marketers are no longer trying to sell the earth instead they re promoting the value their products provide: better health, superior performance, good taste, cost-effectiveness, or simply convenience. This central emphasis on primary benefits the new rules is critical to winning over the mainstream consumer.
The New Rules of Green Marketing helps readers understand why value-based sustainability marketing has become a critical organizational capacity and how they themselves can adopt this approach. Drawing on the latest data from leading researchers and reflecting on learnings from her corporate clients and other pioneers including GE, Nike, Method, Starbucks, Timberland, HP, NatureWorks, Procter & Gamble, Stonyfield Farm, and Wal-Mart Ottman provides practical strategies, tools, and inspiration for building every aspect of a credible value-based green marketing strategy. She covers using a proactive approach to sustainability to spur innovation, developing products that are green throughout their life cycle, communicating credibly to avoid accusations of greenwashing, teaming up with stakeholders to maximize outreach to consumers, taking advantage of social media, and much more.
This book takes the best of Ottman's previous groundbreaking work it into the 21st century. Her new rules relegate traditional green guilt approaches to the recycling bin of history, break green products out of their niche and, ultimately do a far better job of advancing the triple bottom line of people, profits, and planet.
About the Author
Jacquelyn Ottman, presdent of J. Ottman Consulting, has been working with green businesses for over twenty years. Ottman helped launch the EPA s Energy Star, SmartWay, and Design for Environment eco-labels and is currently assisting in the launch of the USDA s BioBased label. She is the author of Green Marketing."
Praise For The New Rules of Green Marketing: Strategies, Tools, and Inspiration for Sustainable Branding…
Ottman's done it again. Jacquelyn doesn't just have her finger on the pulse of green marketing, she is the pulse. She cuts the ubiquity of green marketing with the unique perspective of experience in this marketplace. Read this book and you're up to speed.
-John Rooks, Author of More Than Promote - A Monkeywrencher's Guide to Authentic Marketing.
Jacquelyn Ottman has yet again written an indispensable book about green marketing. The New Rules of Green Marketing not only provides valuable insights to the current and shifting marketing landscape, but also provides a blueprint of how to use these new rules to achieve business success...a must read for every marketer.
-Jennifer Kaplan, author of Greening Your Small Business.
The New Rules of Green Marketing should serve as the definitive text for any organization that is looking to brand itself or its products as green or sustainable. Jacquie's innovation driven insights will help organizations derive real and genuine strategic advantage from their green marketing initiatives.
-David Rinard, Director Global Environmental Performance, Steelcase Inc.
Jacquie Ottman takes her 25 years of experience in Green Marketing and gives insightful data and helpful checklists for practitioners in the field. The demand for green products is mainstream…and companies better be paying attention!
-Shelley Zimmer, Environmental Initiatives Manager, HP.
"Jacquie Ottman was one of the first to open up our consciousness for going green in her earlier book. Now she can demonstrate the strong payoffs to all of us—consumers, producers, retailers—by going green. Hurrah for this book showing how going green pays off in delivering a triple bottom line -- profits, people, and planet."
-Philip Kotler, S. C. Johnson Distinguished Professor of International Marketing, Kellogg School of Management/Northwestern University
 
Advertisement