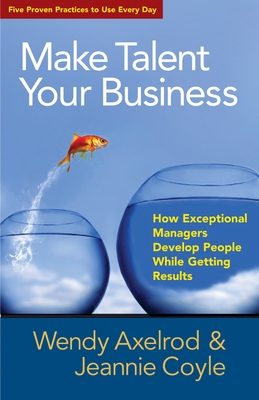 Make Talent Your Business: How Exceptional Managers Develop People While Getting Results (Paperback)
How Exceptional Managers Develop People While Getting Results
Berrett-Koehler Publishers, 9781605099316, 199pp.
Publication Date: June 6, 2011
Description
Despite considerable investment in resources and tools, many managers and their companies struggle to get the level of talent they truly require. "Make Talent Your Business "gets to the heart of the matter: Managers themselves are in the best position to help people learn from experience (the uncontested major source of development). The books shows managers how to do this by using the five practices that work for leaders who are exceptional at building talent.
Based upon research with exceptional leaders from companies such as Corning, Intel, Merck, Kraft, Siemens, Marriott, Microsoft, Wells Fargo and Xerox this approach goes well beyond the usual managerial coaching and performance management. This breakthrough approach of five practices helps managers develop significant capabilities in their employees well beyond the scope of their current roles. It integrates development into day-to-day work, rather than making it a separate event. Managers who develop people this way get better results, retain talent, enhance their own reputations and certainly do not want to return to their former ways of managing.

Praise For Make Talent Your Business: How Exceptional Managers Develop People While Getting Results…
"The old adage of 'teaching a man to fish' was never more apropos than in Wendy and Jeannie's expert roadmap. They provide a must read for every manager to help talent flourish, and in the process create an enduring managerial legacy."
—Kevin Oakes, CEO, Institute for Corporate Productivity (i4cp) and coeditor of Executive Guide to Integrated Talent Management
"As a senior leader striving for market-leading, game-changing results, I always knew that our people were the key differentiator. Wendy and Jeannie have uncovered the practical actions that allow managers to develop people AND achieve superior business results!"
—Amy S Abrams, former Senior Vice President, Merck and President, Telerx
 
Advertisement