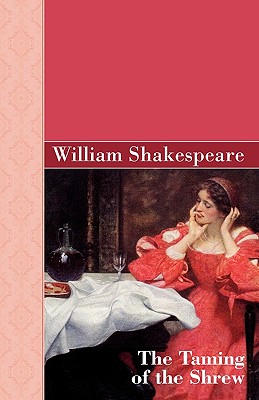 The Taming of the Shrew (Paperback)
Akasha Classics, 9781605125930, 142pp.
Publication Date: February 12, 2010
Other Editions of This Title:
Paperback (9/29/2009)
Paperback (10/3/2009)
Paperback (1/1/2009)
Paperback (12/22/2015)
Paperback (1/30/2014)
Paperback (9/1/2016)
Paperback (11/15/2017)
Paperback (7/23/2018)
Paperback (5/1/2007)
Paperback (6/8/2009)
Paperback (5/11/2017)
Paperback (4/21/2018)
Paperback (11/10/2013)
Paperback (8/22/2016)
Paperback (7/20/2018)
Paperback (7/1/2014)
Paperback (9/6/2018)
Paperback (6/16/2016)
* Individual store prices may vary.
Description
Join the bard at his bawdy best in one of his most popular comedies. Fearing that no man will marry his quick-tempered daughter Katherine, the wealthy Merchant Baptista declares that she must wed before her more likeable younger sister may. Attracted by Katherine's large dowry, Petruchio sets out to woo her, and to everyone's surprise finds her charming. The marriage is arranged and Petruchio sets about to tame his bride with ever more insidious tricks. Bianca meanwhile has no shortage of suitors, including the disguised Lucentio. Offering her his services as a tutor he hopes that closeness will lead to love. Not stopping at the wedding, Shakespeare also reflects on the institution of marriage, the rifts between men and women, and the rough journey toward love. The Taming of the Shrew brims with deception, disguise and delight.