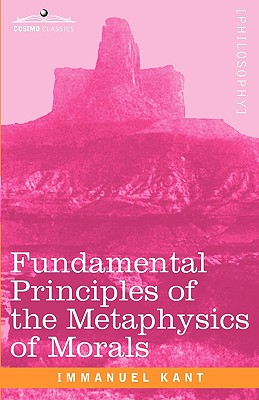 Fundamental Principles of the Metaphysics of Morals
Paperback

* Individual store prices may vary.
Other Editions of This Title:
Digital Audiobook (4/25/2011)
Paperback (10/31/2008)
Paperback, Large Print (11/2/2006)
Paperback (6/12/2015)
Paperback (3/1/1987)
Paperback (7/24/2014)
Paperback (3/22/2016)
Paperback (6/18/2010)
Paperback (12/2/2009)
Paperback (5/2/2011)
Paperback (3/13/2008)
Paperback (7/11/2011)
Paperback (1/15/1785)
Hardcover (6/1/1785)
Paperback (2/18/2008)
Paperback (3/17/2014)
Paperback (5/8/2008)
Description
How should human beings behave toward one another? How must we behave? One of the most influential thinkers of the Western civilization, a man who profoundly shaped the mind-set of the modern world, Immanuel Kant developed his "Categorical Imperative" as a philosophical proof of the "Golden Rule," and in this 1873 essay, he elaborates upon and defends his understanding of the logical underpinnings of all human morality. Essential reading for anyone seeking an appreciation of modern philosophy, this is an intriguing and provocative work exploring the intersection of morality and reason. German metaphysician IMMANUEL KANT (1724-1804) served as a librarian of the Royal Library, a prestigious government position, and as a professor at K nigsberg University. His other works include Observations on the Feeling of the Beautiful and Sublime (1764), Critique of Pure Reason (1781), and Groundwork of the Metaphysics of Morals (1785).
Cosimo Classics, 9781605204529, 92pp.
Publication Date: May 14, 2009