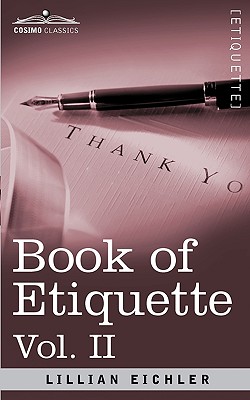 Book of Etiquette, Vol. II (in 2 Volumes) (Paperback)
Cosimo Classics, 9781605209777, 288pp.
Publication Date: January 1, 2013
* Individual store prices may vary.
Description
The only serious competitor to Emily Post as etiquette maven to America between the wars, LILLIAN EICHLER WATSON (b. 1902) was a 19-year-old copywriter for the book publisher Doubleday when she was commissioned to rewrite the outdated Encyclopedia of Etiquette by Emily Holt. This is the guide to good manners she produced in 1921, mining her own experience as a social misfit and would-be social climber, and it was a huge hit with those aspiring to a grander station. Volume II covers: - how to address servants - correct dress for the butler - use of the napkin - evolution of the afternoon tea - the man at the garden party - yachting parties for bachelors - musicales and private theatricals - when the lady is asked to dance - some important rules about golf - the charm of correct speech - the eccentric dresser - poise in public - and much more.