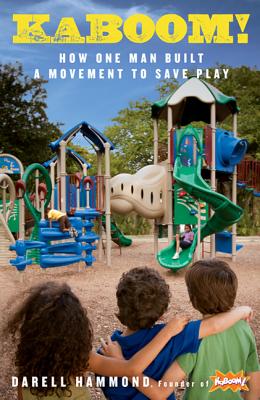 KaBOOM!: How One Man Built a Movement to Save Play (Hardcover)
How One Man Built a Movement to Save Play
Rodale Books, 9781605290751, 286pp.
Publication Date: April 26, 2011
* Individual store prices may vary.
or
Not Currently Available for Direct Purchase
Description
"KaBOOM " is the powerful, uplifting journey of a man who grew up in a group home with his seven brothers and sisters and went on to build a world-class nonprofit that harnesses the power of community to improve the lives of children.
In 1995, Darell Hammond read an article in the "Washington Post" about an unthinkable tragedy: Two young children suffocated in a car on a hot summer day in southeast Washington, DC. The story indicated that the children had nowhere to play; in the absence of a playground, they had climbed into an abandoned car. Reading the article fueled Hammond's sense of injustice, and his life's mission came into focus. Hammond founded KaBOOM , a national nonprofit that provides communities with tools, resources, and guidance to build and renovate playgrounds and playspaces.
In some of the toughest and poorest neighborhoods in North America, 2,000 barren spaces have been transformed by KaBOOM and more than a million volunteers and community members into kid-designed, fun, and imaginative places to play. This is the story of a man with a vision, a man who believes that play is the best natural resource in a creative economy and that kids need more of it. Play is not a luxury but a necessity for their lives. Through hard work, commitment, and the conviction that access to a safe play environment is the fundamental right of all children, Hammond built an organization that has touched the lives of countless children and families.
Hammond's story demonstrates how one idealist can change the world and how small, civic-minded steps create a ripple effect that can transform communities and eventually the world at large.
About the Author
DARELL HAMMOND is the founder and CEO of KaBOOM!, an innovative nonprofit based inWashington, DC, that is saving play by ensuring there is a great place to play within walkingdistance of every child in America. Founded out of Hammond's apartment in 1996, KaBOOM!has raised $200 million, rallied a million volunteers, led the hands-on construction of2,000 playgrounds, and inspired a movement for the child's right to play. Darell and his wife, Kate, reside in Washington, DC.
Praise For KaBOOM!: How One Man Built a Movement to Save Play…
"It takes equal parts audacity, creativity, and vision to build an organization as successful as KaBOOM!—and Darell Hammond has that special blend. I'm proud to have partnered with the organization as First Lady of California to bring 31 new playgrounds to the state's neediest communities, including the first volunteer-built intergenerational playground in California. It's a partnership that continues to change lives and transform these communities." —Maria Shriver, award-winning journalist, bestselling author and activist "Darell Hammond's visionary work is helping bring national attention to the critical 'play deficit' so many children face and transforming not just children but entire communities. Read this compelling, engaging book and be inspired." —Marian Wright Edelman, President, Children's Defense Fund "The story of Darell and KaBOOM! demonstrates that true leadership and innovation comes from not only celebrating successes, but also embracing and learning from failures. Through his tireless dedication and willingness to continually re-think traditional approaches to creating social change, Darell's reflections provide powerful insights into what it takes to become a trailblazer
not just in the nonprofit sector, but in any sector." —Jean Case, CEO, the Case Foundation "Darell Hammond has led an extraordinary life and made extraordinary contributions to the lives of countless others. Part memoir, part manifesto, KaBOOM! is a passionate story of play's transformative power to deepen the quality of children's lives and strengthen the bonds of families and
communities. A searching and practical journey through triumphs and disappointments, KaBOOM! will inspire and enlighten you with the boundless possibilities of imagination, creativity, and play." —Sir Ken Robinson, New York Times bestselling author, The Element: How Finding Your Passion Changes Everything "Business entrepreneurs build economic prosperity in a society. Social entrepreneurs build communities and knit social fabric. Darell Hammond is an unusual combination of both. His story is both instructional and heartwarming." —Ram Charan, bestselling author, What the CEO Wants You to Know
Advertisement