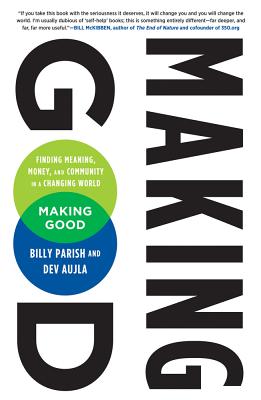 Making Good
Finding Meaning, Money, and Community in a Changing World
Paperback

* Individual store prices may vary.
Description
As we emerge from the recession, a generation is searching for practical answers about how to succeed and make positive change in the world. With real-life success stories and practical advice and
exercises, Making Good outlines how to find opportunities to effect change and make money. These
opportunities are not just for entrepreneurs and Fortune 500 companies: Making Good shows step-by-step how any person can achieve financial autonomy, capitalize on global changes to infrastructure, and learn from everyday success stories—providing the skills and insights this generation needs to succeed and build careers and lives of consequence.


Charismatic, young, and passionate, Billy Parish and Dev Aujla have been recognized in media outlets
like Vanity Fair, Salon, and Rolling Stone as the voices of their generation. They are at the vanguard of figuring out how the next generation will rethink, reimagine, and rebuild the world around us. Making Good culls the knowledge that has allowed Billy and Dev to build thriving, meaningful careers into a book that will be What Color Is Your Parachute? for the Facebook generation.
Praise For Making Good: Finding Meaning, Money, and Community in a Changing World…
"Society has many names for those of us determined to rethink, reimagine and rebuild the world. But the labels do little to resolve the confusion within you about what specifically you are called to do--or how you might actually get paid to do it. Within this small book are many of the tools you need to identify and build on in order to overcome your doubts and transform both yourself and the world around you. Making money and affecting positive change in this new economy are not mutually exclusive--in fact, they are very much connected. Rebuilding this economy is not just a technological challenge, it is a moral challenge. Only this generation is diverse enough, loving enough, determined enough, and connected enough to meet the true moral challenge that we face. This inspiring and practical book explains how to take some of these incredible assets our civilization has developed and shows us, step by step, how to redirect them for good." —Van Jones, author of The Green Collar Economy and Rebuild the Dream

"If you take this book with the seriousness it deserves, it will change you and you will change the world. I'm usually dubious of 'self-help' books; this is something entirely different--far deeper, and far far more useful." —Bill McKibben, author of The End of Nature, co-founder of 350.org

"A manifesto and map for a generation desperate for jobs. Making Good shows readers not so much how they can find any old job, but more how you can create a career path that can generate meaning, purpose and money." —Bill Drayton, founder and CEO of Ashoka, founder of Get America Working!

"Dev Aujla and Billy Parish have written a practical, inspiring, quietly subversive guide that speaks directly to this generation's desire to create their own economy and become their own heroes." —Anya Kamenetz, senior writer at Fast Company, author of Generation Debt and DIY U

"Dev and Billy are two of the brightest lights in the coming transformation, the great turning. This emerging reimagination of what it means to be human at a time when every living system is failing. Making Good is a personal, taut, authentic, how-to-do-it care manual for the active, idealistic, and pragmatic. It is a powerfully instructive, even canonical, for a generation born into a crazy quilt world of conflict and corporate dominance who want to do more than speak truth to power, a generation that is bringing power to the truth." —Paul Hawken, author of The Ecology of Commerce and Natural Capitalism

"Making Good is a motivating and practical guide for the personal desire, and global urgency, to align our economics with our well-being." —Josh Thome, National Geographic Emerging Explorer + 4REAL TV Series Creator

"Billy Parish and Dev Aujla embarked on a remarkably ambitious book. Not content to educate and mobilize on global warming and social justice, they have written a 'how to' book for ethical living in a corrupt economy. It is a practical guide to ensure that 'making a living' does not compromise 'having a life.' Making Good could change the world." —Sara Horowitz, president of Freelancers Union

"This is not only the real deal--it has to be one of the most important and essential reads of today. What you can learn here will help create the positive shifts we all so desperately crave." —David de Rothschild, author of The Global Warming Survival Handbook, founder of Adventure Ecology

"My generation, I'm afraid, has let our dear country go into steep decline, but Making Good by two of our brightest young people offers solid hope for rebirth. It does that the only true and lasting way, by inspiring people at the personal level to a new way of thinking, living and working." —Gus Speth, former administrator of United Nations Development Program

"The current unemployment crisis is enough to get anyone down, but Parish and Aujla are here to brighten the gloomy atmosphere. Where others see hopelessness, they see opportunity. This enthusiastic handbook urges the jobless and the underemployed to venture out, virtually skip the corporate world all together and embrace the power of 'non-linear' career paths...A fresh way to look at the challenges facing job seekers today." —Kirkus Reviews

"Highly recommended. An uplifting primer filled with practical insights for students who want to effect global change without sacrificing personal financial security or stability. The business acumen, leadership skills, as well as real-life examples illustrated here draw a compelling picture of careers that combine purpose and sustainable security." —Library Journal

"Social entrepreneurs Parish and Aujla provide an informative and engaging look at how to make the world a better place while simultaneously earning a living...Parish and Aujla make a convincing case for this growing trend, but their greatest contribution centers around monetizing social commitments and turning them into jobs...the authors offer practical strategies and identify four common stages that all will encounter...Geared toward helping readers find satisfaction in work that reflects their principles, this book shows that you don't have to compromise to earn a living by doing good." —Publishers Weekly

"A huge percentage of Millennials would dedicate themselves to changing the world if they could figure out how to earn a living doing it. In MAKING GOOD, activists and entreprenuers Billy Parish and Dev Aujla share their own stories and the stories of countless others who have turned their passions into careers." —BizEd Magazine
Rodale Books, 9781605290782, 304pp.
Publication Date: February 28, 2012
About the Author
DEV AUJLA is the Founder of DreamNow, a charitable organization that works with young people to develop, fund and implement their social change projects. Dev works as a Director of Partnerships for Change.org and has worked for other leading companies that do good and pay well like GOOD Corps. His work and writing have been featured in numerous media outlets including the Globe and Mail, CBC Newsworld and the Huffington Post. Aujla divides his time between Toronto and New York.

BILLY PARISH is widely known as an innovative youth organizer, social entrepreneur, and champion of the emerging green economy. He co-founded the Energy Action Coalition, the largest youth advocacy organization in the world working on climate change issues, is co-founder and President of Solar Mosaic, a solar energy marketplace and serves on numerous non-profit and clean-tech boards. Parish lives in Oakland, California with his wife and daughters.
Book Videos
or
Not Currently Available for Direct Purchase