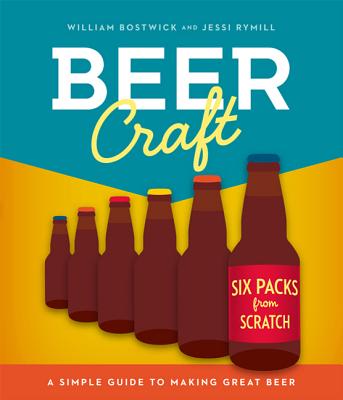 Beer Craft (Paperback)
A Simple Guide to Making Great Beer
Rodale Books, 9781605291338, 176pp.
Publication Date: May 10, 2011
* Individual store prices may vary.
Description
Six easy steps to making world-class beer in your kitchen! Beer Craft by William Bostwick and Jessi Rymill is your guide to drinking the best beer you've ever tasted—by making it yourself. This kitchen manual has everything you need to turn your stove into a small-batch, artisanal brewery. Hone your craft by perfecting the basic beer styles, or go wild with specialty techniques like barrel-aging and brewing with fruit. Beer Craft is the ultimate modern homebrewing resource, simple and clear but packed with enough information to satisfy anyone making their first, or four-hundredth, beer.

• Master simple stovetop recipes for all your favorite styles, from pale ales and barleywines to fruit and sour beers
• Flavor your beer with spices, special grains, and a pantry full of deliciously unexpected extras like coffee, chocolate, and homegrown hops
• Create labels and bottle caps for your home brewery, and get inspired by retro designs of beers gone by
• Get pro tips on advanced techniques like barrel-aging and wild bacteria from interviews with brewers at Rogue, Sierra Nevada, Stone, and more of today's best craft breweries
• Learn facts from beer history, like recipes for ancient bog-myrtle and heather beers, the story of the great London beer flood of 1814, and even brewing advice from Thomas Jefferson
About the Author
WILLIAM BOSTWICK is a writer and beer critic. He likes brewing old-school styles like heather beers (but understands why some of them have gone extinct).

JESSI RYMILL is a designer and editor. She collects labels and bottle caps and wonders why the beers with the weirdest designs usually taste the best. Together, they live, work, and brew in Brooklyn and San Francisco.
Praise For Beer Craft: A Simple Guide to Making Great Beer…
"Beer Craft is a terrific primer for anyone looking to enter the endlessly fascinating world of homebrewing. Authors William and Jessi struck a perfect balance: Beer Craft is both quite educational while being effortless to follow!" —Greg Koch, co-founder and CEO, Stone Brewing Co.

"Bostwick and Rymill demystify the esoteric process of homebrewing. ... The genius of this book is that it takes an incredibly complex topic and boils it down to quaffable parts without dumbing down the key points of becoming a serious homebrew honcho." —Food and Wine

"The ReadyMade magazine–style guide in retro pop-art tones boasts brilliantly colored charts, graphs, and illustrations that could revolutionize homebrewing." —Edible Brooklyn

"A new kind of guide ... Offers insight for everyone. Laminate your copy so it can live forever on your countertop." —Beer Advocate

"Bostwick and Rymill streamline beermaking into a simpler, cheaper, and less daunting task: brewing by the gallon. ... In this writer's experience, homebrew shopkeepers often encourage beginner brewers to first try their hand at pale ales, browns, or IPAs. But Beer Craft, true to the current era of creative and "extreme" brewing, pushes readers to explore." —SF Weekly

"This is the book I wish I'd had back when I made my first homebrew. With it, the greenest homebrewer could go into the kitchen with confidence and make great beer. ... Highly recommended for anyone thinking about starting to homebrew. Advanced brewers might also consider picking up a copy just for the great reference charts on malt varieties, types of hop, yeasts, and basic recipe formulas." —Apartment Therapy

"Beer Craft is like Mark Bittman's How to Cook Everything--just for homebrew hobbyists. Unlike the homebrew books that have come before, Beer Craft is designed for urban DIYers living in small, city apartments. Even if you don't plan on making your own beer, the design, interesting facts, and plain readability of the book makes its worth adding to your library." —Dwell
or
Not Currently Available for Direct Purchase