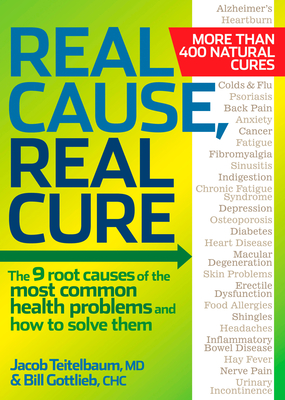 Real Cause, Real Cure
The 9 root causes of the most common health problems and how to solve them
Paperback

* Individual store prices may vary.
Description
An eye-opening guide that boils down common health problems to nine simple causes and offers the relief readers have been searching for.

An expert in combining both traditional and alternative medicine, Dr. Teitelbaum explains that tackling nine wholly preventable causes is the key to long-term, real relief from nagging health concerns.

Real Cause, Real Cure unearths the underlying causes of more than 50 health problems, steering readers toward cost-effective, safe, and easy remedies to combat woes ranging from acne and food allergies to diabetes and cancer. Readers will discover how getting a full night's rest can combat heart disease, diabetes, depression, heartburn, weight gain, and chronic pain; how adding exercise to one's daily routine not only prevents an expanding waistline, but also wards off Alzheimer's, fibromyalgia, insomnia, and stroke; and how drugs taken to improve our health are a major culprit in why we keep getting sick.

This user-friendly guide takes the confusion out of personal health care so readers can enjoy a life free of needless prescriptions, doctors' offices, and irritating health issues.
Rodale Books, 9781605292021, 448pp.
Publication Date: August 7, 2012
About the Author
Jacob Teitelbaum, MD, is a board certified internal medicine physician and researcher, widely recognized as an innovative leader in complementary health care, and medical director at the Fibromyalgia and Fatigue Centers. He divides his time between Virginia and Hawaii.

Bill Gottlieb is author of The Natural Fat-Loss Pharmacy and the bestselling Alternative Cures, with more than 1.6 million copies sold. He lives in California.