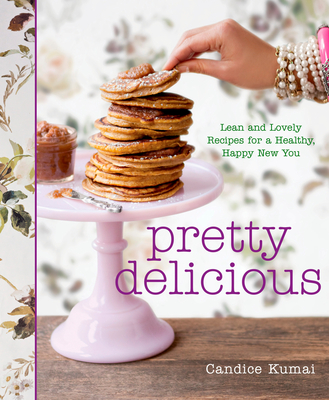 Pretty Delicious (Hardcover)
Lean and Lovely Recipes for a Healthy, Happy New You: A Cookbook
Rodale Books, 9781605293509, 288pp.
Publication Date: February 1, 2011
* Individual store prices may vary.
Description
When was the last time you indulged in a sumptuous eggs benedict, an herbaceous and aromatic pasta with pesto, or a soul-satisfying cup of creamy tomato soup with a grilled cheese on the side—without a moment of guilt? The too-good-to-be-true recipes in Pretty Delicious not only look and taste great, but they are as easy on the waistline as they are on the wallet and will keep you lean, sexy, and very, very happy.

The secret? Former model-turned-chef Candice Kumai skips "diet" food in favor of smart swaps and delicious real foods that keep fat and calories to a minimum while boosting flavor and plate appeal to the maximum. And by loading her dishes with FWBs (that's foods with benefits, of course!), she ensures that every enticing bite provides the key nutrients your body craves to stay healthy and look amazing.

From sliders and mac' and cheese to a lightened-up veggie lasagna and guilt-free BLTs, nothing is off-limits in the Pretty Delicious kitchen. Love Cali-fresh flavors? Try Candice's 470-calorie Fabulous Fish Tacos and a soul-soothing Albóndigas Soup. Making an intimate dinner for two? Almond Pesto Fettuccine with Pan-Seared Scallops or Grilled White Pizza with Mushrooms, Artichokes, and Parm are made to order. Hosting a crowd for brunch? A breakfast burrito bar or make-your-own-mimosas spread will start the weekend off right without weighing you down.

And proving that you don't need to be a millionaire to eat like royalty, Candice shares her tips for being fab and frugal, as well as ideas for making smart switches in the kitchen that will save you calories and fat grams without compromising on flavor.

For entertaining, for easy weeknight meals, and for simple snacks and everyday indulgences (to be enjoyed in moderation), Candice Kumai's collection of smart, sexy, and truly irresistible recipes is proof that even the most health-conscious cook can dish it up with style and flavor!
About the Author
CANDICE KUMAI received her culinary training at Le Cordon Bleu California School of Culinary Arts and has worked in several Los Angeles restaurants. After appearing on the first season of Bravo's Top Chef, she became the host of Lifetime's hit series Cook Yourself Thin and was a contributing writer to the #1 New York Timesbestseller Cook Yourself Thin: Skinny Meals You Can Make in Minutes. She has also appeared on TLC's Home Made Simple and Cooking Channel's Unique Eats and has contributed to various food and lifestyle publications. Candice continues her journey of spreading her love of pretty delicious cooking, good health, and living a fabulous life in New York City.