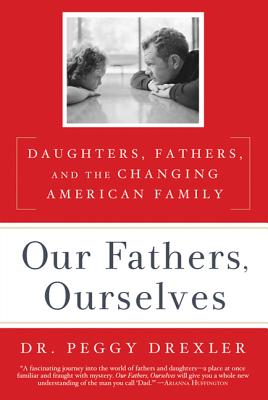 Our Fathers, Ourselves (Hardcover)
Daughters, Fathers, and the Changing American Family
Rodale Books, 9781605293608, 272pp.
Publication Date: May 10, 2011
Other Editions of This Title:
MP3 CD (6/14/2016)
* Individual store prices may vary.
Description
There's no denying that a woman's relationship with her father is one of the most important in her life. And there's also no getting around how the quality of that relationship—good, bad, or otherwise—profoundly affects daughters in a multitude of ways.

In Our Fathers, Ourselves, research psychologist, author and scholar Dr. Peggy Drexler examines the ways in which the father-daughter bond impacts women and offers helpful advice for creating a better, stronger, more rewarding relationship. Through her extensive research and interviews with women, Dr. Drexler paints an intimate, timely portrait of the modern father-daughter relationship.

Women today are increasingly looking to their dads for a less-than-traditional bond, but one that still stands the test of time and provides support, respect, and guidance for the lives they lead today. Our Fathers, Ourselves is essential reading for any woman who has ever wondered how she could forge a closer connection with and gain a deeper understanding of her father.
About the Author
DR. PEGGY DREXLER is a research psychologist, author and an Assistant Professor of Psychology in Psychiatry at the Weill Medical College of Cornell University. She has written Raising Boys Without Men which was a finalist for Books for a Better Life Award and a Lamda Literary Award. A former gender scholar at Stanford University, she speaks at colleges and universities across the country. She is an expert on the impact of gender on individuals and families and has appeared on and written for a wide range of national and international media, including: The Today Show, Good Morning America, NPR, The New York Times, USA Today, Good Housekeeping and Parents magazines. Her columns appear regularly on Huffington Post.
Praise For Our Fathers, Ourselves: Daughters, Fathers, and the Changing American Family…
"A fascinating journey into the world of fathers and daughters – a place at once familiar and fraught with mystery. Writing with insight and emotion, Peggy Drexler has delivered an operating manual for father-daughter relationships that is also a tender reflection on the loss of her own father. Our Fathers, Ourselves will give you a whole new understanding of the man you call Dad – or the man your children call Dad." —Arianna Huffington, president and editor in chief of Huffington Post Media Group

"This is a book I could have used growing up. Like a lot of daughters, I would occasionally look at my father and ask myself: Who is this man? Peggy Drexler has combined research, her own curiosity and the stories of fascinating women in search of an answer. She helps us break through the assumptions, hopes and myths to discover the real man behind them." —Bette Midler

"I've spent my career working to understand families – both as a clinician and a teacher. This book has expanded my thinking and forced me to reevaluate and question my assumptions. In a generation, fathers have gone from provider, protector and lord of the household to a role in search of definition. Studies show that fathers are more involved in the lives of children – but as a supporter and advisor, not a lawgiver. The numbers show that women are storming the gates of possibility – giving them more in common with the world of their fathers. This book is a valuable guide for any daughter and father, as families continue to pass through a time of incredible change." —Linda Carter, Ph.D., Clinical Associate Professor in Psychiatry and Director, Family Studies Program at New York University Child Study Center

"This book struck a chord because I would not be where I am today if it weren't for the love and support of my dad. So much of who I am and how I approach life, I learned from him. I recommend this book to anyone interested in this special relationship between fathers and daughters." —Bobbi Brown, Makeup Artist and Founder of Bobbi Brown Cosmetics

"Peggy Drexler maps the largely unexplored regions of father-daughter relationships in this insightful and heartfelt book. In scenes both of pain and joy she explores the ancient dance of love and longing between fathers and daughters. If you've been a father or a daughter, or even watched such a relationship play itself out, you'll want to read this book." —Alan Alda

"Dr. Peggy Drexler sheds new light on preconceived notions of parenting roles. Our Fathers, Ourselves is a fascinating look into how our fathers influence us. A must-read for any parent and all daughters." —Tory Burch, founder and CEO, Tory Burch LLC

"A compelling, passionate argument for the influence of fathers on girls' confidence and self-esteem. In these moving and insightful profiles, readers learn from role models (the good and the bad) about what it means to be a father. Drexler has upended a powerful stereotype about the trivial role of dads and fills a crucial hole in the research on girls and families." —Rachel Simmons, bestselling author of Odd Girl Out and The Curse of the Good Girl

"This book will help you build a stronger, better relationship with dad – and in the process give you a resource you might not even know you have. Sometimes the most valuable things are hidden in plain sight." —Laurie David, author of The Family Dinner, producer of Academy Award-winning documentary "An Inconvenient Truth"

"As one of three girls with a father whom we loved and revered, I lapped up every word of Drexler's book as it validated the very important role fathers play in shaping so many facets of their daughters' lives. Kudos to Drexler for researching this under-mined area of human interaction." —Lee Woodruff, Author, Perfectly Imperfect
or
Not Currently Available for Direct Purchase