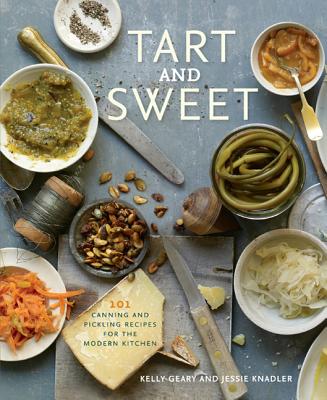 Tart and Sweet: 101 Canning and Pickling Recipes for the Modern Kitchen (Hardcover)
101 Canning and Pickling Recipes for the Modern Kitchen
Rodale Books, 9781605293820, 240pp.
Publication Date: March 29, 2011
Description
Think You Can't Can? Think Again
The craft of canning has undergone a renaissance, attracting celebrity chefs, home cooks, and backyard gardeners alike. Canned and pickled foods have become a cornerstone of the artisanal food movement, providing an opportunity to savor seasonal foods long after harvest and to create bold new flavors.
"Tart and Sweet" by Kelly Geary and Jessie Knadler is the essential canning manual for the 21st century, providing a modern tutorial on small-batch canning accompanied by easy-to-follow photos and instructions as well as more than 101 sweet and savory recipes for preserved fruits and pickled vegetables, including jams, chutneys, marmalades, syrups, relishes, sauces, and salsas.
With traditional favorites like canned peaches and bread-and-butter pickles as well as more inventive flavor combinations such as kumquat marmalade and pickled ramps, "Tart and Sweet" offers endless possibilities for creative preserving. In addition, you'll find recipes and inspiration for using your canned goods in delicious and unique ways, from cocktails to cakes.
Whether you're assembling a plate of pickled hors d'oeuvres, baking with fresh apple butter, or gifting jars of blueberry jam in December, you'll find countless uses for your homemade preserves.
About the Author
Kelly Geary is a chef who worked at Blue Hill at Stone Barns before founding Sweet Deliverance NYC. Named "one of New York food markets' rising stars" by Time Out magazine, Kelly has been featured in the New York Times and on NPR, among others, and is the recipient of a 2011 Good Food Award. She lives in Brooklyn, New York.Jessie Knadler is a writer whose work has appeared in the Wall Street Journal, Women's Health, Comsopolitan, Prevention, Redbook, and Glamour, among others. She lives in central Virginia.
Praise For Tart and Sweet: 101 Canning and Pickling Recipes for the Modern Kitchen…
"Kelly and Jessie's book is an exciting compilation of all things preserved! What a great way to capture the seasons at their peak." – Bill Telepan, chef and owner of Telepan Restaurant, New York City "Tart and Sweet is the go-to to guide for the ancient tradition of preserving. Written clearly and concisely,  you will use it forever . "  --Frank Falcinelli, co-owner of Frankies Spuntino and coauthor of The Frankies Spuntino Kitchen Companion & Cooking Manual "I love this collection of simple yet remarkably diverse recipes--from kimchi to blackberry jam to pear chili chutney. Tart and Sweet empowers resourceful home cooks and gardeners so they can capture and preserve the seasonal ripeness of a fruit or vegetable." - Alice Waters, author of The Art of Simple Food  " A comprehensive, user-friendly guide to canning and preserving for the 21st century with easy-to-follow, delectable, small batch recipes. Perfect for both the seasoned and novice canner."  - Marie Simmons , author of Fresh & Fast: Inspired Cooking for Every Season and Every Day
 
"I once ate nearly an entire pint of Kelly's candied kumquats with cinnamon and star anise straight from the jar. Happily even those who don't have the pleasure of living in the same city with her can now easily make their own delicious preserves, thanks to the lovely and very clever Tart and Sweet-- which should do for Ball jars what Jim Lahey's bread recipe did for Dutch ovens." - Rachel Wharton, James Beard food journalism award winner and Deputy Editor of Edible Manhattan and Edible Brooklyn  "Kelly Geary 's preserves are the best i have ever tasted. She uses excellent ingredients, perfect balance, and creativity to produce something magical. When she told me that she was working on a book, I started counting the days until I could get my hands on it. I can't recommend a better book to purchase and learn from in preparation for the coming season's bounty." - Jonny Hunter, Chef, Underground Food Collective  
Advertisement