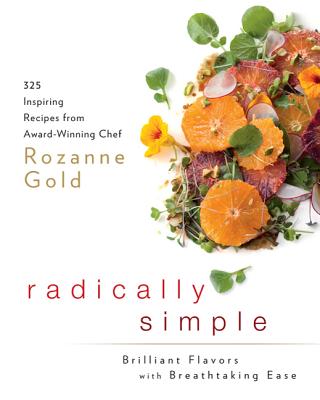 Radically Simple: Brilliant Flavors with Breathtaking Ease (Hardcover)
Brilliant Flavors with Breathtaking Ease
Rodale Books, 9781605294704, 340pp.
Publication Date: October 26, 2010
* Individual store prices may vary.
or
Not Currently Available for Direct Purchase
Description
Throughout her culinary career, chef Rozanne Gold has given much thought to the notions of simplicity and sophistication in cooking. Now, after years of experimentation, she has come to this conclusion: Simplicity is the art of combining a few essential ingredients with a minimum of effort in order to create food that neither looks or tastes like a shortcut; food that is authentic enough to serve with pride and savor with pleasure.
In "Radically Simple: Brilliant Flavors with Breathtaking Ease," Gold demonstrates this art to its fullest, manipulating the interplay of time, technique, and number of ingredients to create bold, sophisticated dishes bursting with global flavors. She offers an entire chapter of elegant 10-minute salads; delectable soups that take less than 5 minutes to prepare and others with such depth of flavor they taste like they've been simmering all day. Her opinionated take on roast chicken yields a peerlessly moist and tender bird without so much as a sprinkling of salt and pepper, while her recipe for pineapple flan transforms sugar, eggs, and bottled juice into a creamy and decadent taste of the tropics. From a 1-minute mustard sauce for her last-minute gravlax to a "Peking" pork shoulder that slow-roasts under a savory blanket of hoisin and scallions, these dishes are truly stunning in their ease of preparation, yet never sacrifice on flavor or presentation. Even Gold's procedures are revolutionary: All are conveyed in 140 words or less.
With hundreds of signature recipes that you will return to time and again, Radically Simple provides both the tools and the inspiration to make memorable meals on a nightly basis and rediscover the satisfaction that comes from time well spent in the kitchen.
About the Author
ROZANNE GOLD is the author of 11 acclaimed cookbooks, a four-time winner of the James Beard Foundation Award, and winner of the IACP/ Julia Child Award. Gold, who at 23 began her career as chef to New York Mayor Ed Koch, went on to become the chef-director of the restaurant consulting firm that has created some of the world's most famous restaurants and lasting food trends. She is a frequent guest on national television and has written for the New York Times, Bon Appetit, Oprah, Cooking Light, and many other national publications.. She lives in Brooklyn, New York, with her husband and daughter.
Praise For Radically Simple: Brilliant Flavors with Breathtaking Ease…
"Chosen as one of the most important cookbooks of the past 25 years." --November 2011, Cooking Light Magazine
"Chosen as one of the year's top cookbooks on Good Morning, America"
-- December 22, 2010
"Chosen as one of the top cookbooks of 2010 in the New York Times Holiday Book Review"
--December 5, 2010, New York Times
"Chosen by the New York Times Food Editor as one of the year's best."
--December 8, 2010, New York Times
"Chosen by People Magazine as one of the top cookbooks of the year."--
November 29, 2010, People Magazine
"Favorite 2010 Cookbook #1: Food & Wine Magazine"
--November 6, 2010
"Gold's global palate and talent for distilling a dish's essentials put her in a Minimal(ist) league of her own
--Christine Muhlke, New York Times, December 5, 2010
"Rozanne Gold is the personal trainer of food writers. She wrings stylish, streamlined, fabulous results with inspired combinations."
--Julia Moskin, New York Times, December 8, 2010
"You have to hand it to Rozanne Gold, who has produced another winner of apractical cookbook in her new "Radically Simple!"
--Bonnie Benwick, The Washington Post 10/3/10
"Favorite 2010 Cookbook #1: Radically Simple by Rozanne Gold. This is thebook I'll be pulling off the shelf the next time I'm stuck in a cooking rut."
--Kristin Donnelley, Food & Wine magazine, 10/6/10
"Gold is spreading the gospel that eating well doesn't have to be complex and exhausting. Her latest title is filled with intoxicating recipes that manage to looktruly easy and simple to make."
--Katherine Miller, The Oregonian, 10/9/10
Advertisement