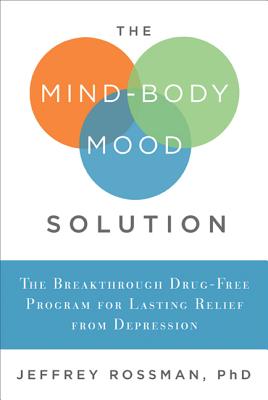 The Mind-Body Mood Solution
The Breakthrough Drug-Free Program for Lasting Relief from Depression
Hardcover

* Individual store prices may vary.
Description
Depression is the leading cause of disability in America. The incidence of depression in the United States today is 10 times greater than it was in 1960—and that rate doubles every decade. Changes in the way we live, work, eat, sleep, and interact have made us increasingly vulnerable to this mood disorder. We are living out of sync with nature, our bodies, our spirits, and one another. We are living in an age of depression.


For 30 years, Dr. Jeffrey Rossman has been treating depressed people, many of whom do not want to take medication. Instead, they are looking for practical solutions that will help them get better naturally and permanently.

In The Mind-Body Mood Solution, Dr. Rossman offers a comprehensive, drug-free depression treatment program that fully integrates psychological tools with lifestyle practices such as nutrition, exercise, sleep, breathing, and meditation. In doing so, you will learn to make healthy, sustainable changes that have been proven to improve mood. In treating the mind and body, Dr. Rossman advocates for a new view of depression as not simply an illness, but a call from within to awaken to the possibility of a vital, fulfilling life.
Praise For The Mind-Body Mood Solution: The Breakthrough Drug-Free Program for Lasting Relief from Depression…
"The Mind Body Mood Solution distills Jeffrey Rossman's decades of experience into a practical, friendly, comprehensive program that addresses the root causes of depression – what goes wrong in our bodies and our minds. Dr. Rossman describes not only how to heal the physical causes of depression, but shows us how to overcome the mental traps that keep us stuck there. If you, like one in four Americans, struggle with depression, you will find a solution in these pages." —Mark Hyman, MD, New York Times bestselling author of The UltraMind Solution

"If you have battled chronic feelings of despair or gone on and off anti-depressants with little long-term relief, this is a book you must read. With his warm, clear style, Dr. Rossman shows you multiple ways you can lift the sadness off of your shoulders and enjoy life more than you ever have before." —Michael Thompson, PhD, New York Times bestselling author of Raising Cain

"The Mind-Body Mood Solution is an important book for anyone who wants to learn how to master their moods and create lasting life balance. Dr. Rossman presents a very sophisticated strategy in an accessible, practical manner. This book is filled with powerful insights and tools that everyone can use." —Jonathan Ellerby PhD, author of Inspiration Deficit Disorder

"Jeffrey Rossman offers a wise, practical, comprehensive, user-friendly guide to overcoming depression and living a life of energy and purpose with a holistic program. The Mind-Body Mood Solution is beautifully written and supported by scores of examples from his own decades of helping people. If you can only read one book on this topic, make it this one." —Belleruth Naparstek, LISW, BCD, author of Invisible Heroes

"A jewel for anyone looking to improve their mood, outlook, and attitude. Dr. Rossman brings to bear his years of experience along with heart and humor as he shows us how to lead happier, more satisfying lives. This book is not just for those suffering from depression, but serves as a wonderful manual for all of us who want to improve our lives." —Mark Liponis MD, Medical Director of Canyon Ranch Health Resorts and coauthor of UltraPrevention
Rodale Books, 9781605295701, 272pp.
Publication Date: December 21, 2010
About the Author
JEFFREY ROSSMAN, PhD, is the director of life management at Canyon Ranch in Lenox, MA. He is on the advisory board of and writes for Rodale.com. He lives in Egremont, MA.
or
Not Currently Available for Direct Purchase