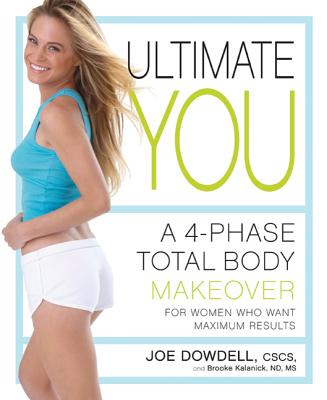 Ultimate You: A 4-Phase Total Body Makeover for Women Who Want Maximum Results (Hardcover)
A 4-Phase Total Body Makeover for Women Who Want Maximum Results
Rodale Press, 9781605296272, 312pp.
Publication Date: May 11, 2010
* Individual store prices may vary.
or
Not Currently Available for Direct Purchase
Description
When Hollywood's brightest stars need to shape up, they turn to world-renowned trainer Joe Dowdell for his innovative workouts. Now, he teams up with naturopathic doctor Brooke Kalanick to create this one-of-a-kind plan that will help you achieve the body you've always wanted. Ultimate You is not a weight-loss plan. It is a fat-loss plan with the revolutionary concept of metabolic disturbance at its core. Metabolic disturbance revs up fatburning hormones during your workout and creates a post-workout "afterburn" that torches calories for hours after you leave the gym.
Learn how to easily and naturally manipulate hormones that affect fat gain and fat loss with a diet that emphasizes real, whole foods plus dozens of meal ideas and recipes. With a 4-phase plan that maximizes weight loss, you won't have to log excessive time in the gym. You'll be
exercising smarter. Ultimate You is your health and fitness bible: a powerful plan for exercising and eating that will result in an amazing body and optimum health.
About the Author
Joe Dowdell, CSCS, is a New York City-based trainer who owns and operates Peak Performance, a fitness center that serves elite clientele. He lives in New York.Brooke Kalanick, ND, MS, is a naturopathic physician specializing in metabolic nutrition, fat loss, women's health, and natural skincare. She lives in New York.
Praise For Ultimate You: A 4-Phase Total Body Makeover for Women Who Want Maximum Results…
"Joe and Dr. Brooke have crafted a comprehensive and intensive program for personal fitness,backed by years of experience. If you're serious about achieving optimal performance,Ultimate You is the ultimate guide."—Leo Galland, MD, author of The Fat Resistance Diet "You will find real and sustainable results by following this insightful game plan tailored for women."—Mark Verstegen, author of Core Performance Women "Joe Dowdell's success as one of the world's best trainers speaks for itself. In Ultimate You, Joe haspacked his extremely effective training fundamentals into a very user-friendly, easy to implementprogram. The total body makeover you have always wanted is right at your fingertips."—Robert dos Remedios, MA, CSCS, author of Men's Health Power Training and Cardio Strength Training "I have worked closely with Joe and Dr. Brooke for years to keep my eating on track and my bodylocked and loaded. There are no gimmicks or quick fixes—only intelligent guidelines to get the resultsyou desire. This book should be your body bible."—Carmindy, featured on TLC's What Not to Wear and author of The 5-Minute Face and Get Positively Beautiful "Joe Dowdell and Dr. Brooke Kalanick have done a masterful job informing the reader about the 'bigpicture' of maintaining optimal body composition and achieving success in a weight-lossand wellness program. The premise of 'metabolic disturbance' presented in the book addresses themost efficient, productive way to exercise and is right on target with the emerging research.This book will be required reading for my students and interns, as well as my patients."—David M. Brady, ND, DC, CCN, DACBN, author of Dr. Brady's Healthy Revolution "In a sea of fitness and diet books, "Ultimate You" is a breath of fresh air. The exercise program is great, and the information on metabolism and hormones is spot on! You can't go wrong using this program!"—Jonny Bowden, PhD, CNS, author of "Living Low Carb: Controlled Carbohydrate Eating for Long Term Weight Loss" and "The Most Effective Ways to Live Longer"
Book Videos
Advertisement