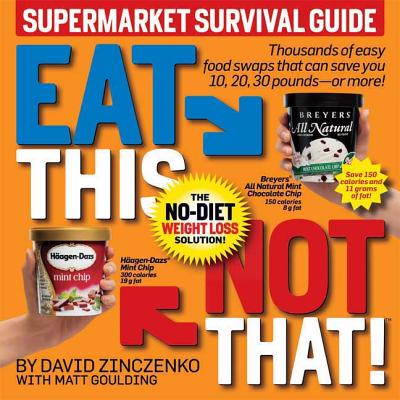 Eat This Not That! Supermarket Survival Guide: The No-Diet Weight Loss Solution (Paperback)
The No-Diet Weight Loss Solution
Rodale Books, 9781605298382, 336pp.
Publication Date: December 30, 2008
* Individual store prices may vary.
or
Not Currently Available for Direct Purchase
Description
You can burn fat and sculpt the body you've always wanted—and even save money in the process-without dieting. All you need is the insider's guide to smart, healthy, low-cost food choices. And now, the right choices are simple!
From the produce section to the frozen-food aisle, the modern supermarket is loaded with 50,000 food choices, all vying for your hard-earned money. N wonder it's hard to know what to buy. But with
Eat This, Not That! Supermarket Survival Guide
, the smart answers are right in your hands. No more fake "healthy" foods. No more rip-off supermarket "bargains." No more disappointing meals. And most important of all, no more extra pounds! Did you know: *A cup of Quaker 100% Natural Granola Oats, Honey, and Raisins contains more calories than 8 chicken wings? (Save 280 calories a day by switching to our preferred choice) *Choosing Rice Krispies Treats over Nutri-Grain Cereal Bars will cut your sugar and calorie intake nearly in half? (With this switch, you could lose a pound every 7 weeks!) *Regular bacon is actually better for you than turkey bacon? (Find other deceptive "healthy" foods and the delicious ones you should be eating instead. With this simple illustrated guide to thousands of foods—along with the nutrition secrets that lead to fast and permanent weight loss—you'll make the smartest choice for you and your family, every time! Additional features in
Eat This, Not That! Supermarket Survival Guide
include:
6 Supermarket Shopping Strategies
11 Secrets the Food Industry Doesn't Want You to Know
The 20 Worst Packaged Foods in America
Master the Produce Aisle: Your Guide to Greens (and other colors)
Your Organic Primer
The Pantry Label Decoder
And more!
About the Author
DAVID ZINCZENKO, editor-in-chief of "Men's Health "magazine, is the author of the "New York Times "bestsellers "The Abs Diet "and "The Abs Diet for Women." Once an overweight child, Zinczenko has become one of the nation's leading experts on health and fitness. He is a regular contributor to the "Today "show, and has appeared on "Oprah," "Good Morning America," and "Primetime Live." MATT GOULDING is the food and nutrition editor of "Men's Health." He has cooked and eaten his way around the world, touching down in Allentown, Pennsylvania, where he divides most of his time between computer and stovetop.
Praise For Eat This Not That! Supermarket Survival Guide: The No-Diet Weight Loss Solution…
Readers Love ETNT:
"The book was so easy to use. And I said this is a no brainer. I have nothing to do but to go to the grocery store and look at this book. And I dropped 35 pounds within a year. My husband used to call me his 'full sized woman.' Of course, he doesn't say that any more and he can't keep his hands off me!" – Darlene, ETNT reader. "This book is now a reference book I look at and have fun with, plus I think it has helped me drop a couple of pounds extra with my exercising in the last couple of weeks." "This book has saved me thousands of extra calories and I did not sacrifice one thing." "This is a great read and helps you make better choices when eating out to shopping at the grocery store. As I read I did not realize what a small change in your choice could make. I've already lost 7lbs and am very pleased."
Advertisement