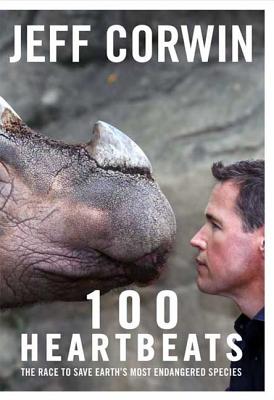 100 Heartbeats (Hardcover)
The Race to Save Earth's Most Endangered Species
Rodale Books, 9781605298474, 320pp.
Publication Date: October 27, 2009
* Individual store prices may vary.
Description
It's no secret that our planet—and the delicate web of ecosystems that comprise it—is in crisis. Environmental threats such as climate change, pollution, habitat loss, and land degradation threaten the survival of thousands of plant and animal species each day. In 100 Heartbeats, conservationist and television host Jeff Corwin provides an urgent, palpable portrait of the wildlife that is suffering in silence and teetering on the brink of extinction. From the forests slipping away beneath the stealthy paws of the Florida panther, to the giant panda's plight to climb ever higher in the mountains of China in search of sustenance, to the brutal poaching tactics that have devastated Africa's rhinoceros and elephant populations, Corwin takes readers on a global tour to witness firsthand the critical state of our natural world. Along the way, he shares inspiring stories of battles being waged and won in defense of the earth's most threatened creatures by the conservationists on the front lines. These stories of hope and progress underscore an important message: Our own survival, as well as that of the world's wildlife, is in our hands. The race to save the planet's most endangered wildlife is under way. Every heartbeat matters.
About the Author
From an early age, Jeff Corwin has worked for the conservation of endangered species. In addition to his work as a wildlife biologist, Corwin is also an Emmy Award–winning producer and host of more than a dozen television series that have been broadcast in more than 100 countries for the following networks: Discovery, Animal Planet, Disney, the Food Network, NBC, CNN, and the Travel Channel. His most recent documentary project, MSNBC's 100 Heartbeats, is based on this book. He is the author of Living On the Edge (Rodale, 2004) and the Jeff Corwin Junior Explorers Series (Puffin Books). Corwin holds bachelor of science degrees in biology and anthropology from Bridgewater State College and a master of science degree in wildlife and fisheries conservation from the University of Massachusetts. He is the founder of the EcoZone, an interactive museum in Norwell, Massachusetts. When not in the field, Corwin resides with his wife and two daughters on a small island off of the southeastern coast of Massachusetts.
Praise For 100 Heartbeats: The Race to Save Earth's Most Endangered Species…
"The importance of this absorbing and exciting book is that it bears witness to Earth's vanishing wildlife by an expert who has actually visited the species, one by one. Corwin reports their status and prognosis, their case histories, and humanity's chances to save each one--if we awaken in time." —E. O. Wilson, research professor, Harvard University, and Pulitzer Prize–winning author of On Human Nature and The Ants

"On a warming world, conservation and wildlife protection is an increasingly desperate battle. Here are the stories of some real heroes, who should move us all to real action." —Bill McKibben, author of Deep Economy

"A wonderful read filled with great outdoor adventure stories and fresh, interesting science. Jeff Corwin's love of animals shines through these narratives." —Bruce Babb itt , former US Secretary of the Interior, and chairman, World Wildlife Fund


"Drawing from his travels to the front lines of the extinction crisis, Jeff Corwin paints a compelling portrait of the many threats facing our planet's wildlife. Alternately frightening and inspiring, 100 Heartbeats holds important lessons about the impacts we have on endangered animals and what we can do to save them." —Rodger Schlickeisen, president and CEO, Defenders of Wildlife

"A riveting firsthand account of the lives of endangered animals and the stalwart efforts to secure their future. 100 Heartbeats makes the case clearly: Those present on the planet now have the responsibility, potential, and the opportunity for heroic rescue." —Thomas E. Lovejoy, PhD, biodiversity chair and former president of the Heinz Center for Science, Economics, and the Environment


"Jeff Corwin is the best nature guide I know. In his gripping new book he pulls us into the life-and-death struggle to save the world's most endangered species. Rather than a collection of obituaries for endangered species, 100 Heartbeats illustrates how committed individuals and conservation organizations can prevent extinctions. This engaging mix of adventure, compassion for nature, and solid natural history is a perfect introduction to a world we are about to lose unless we act now." —Dr. Eric Dinerstein, Chief Scientist, World Wildlife Fund
Book Videos