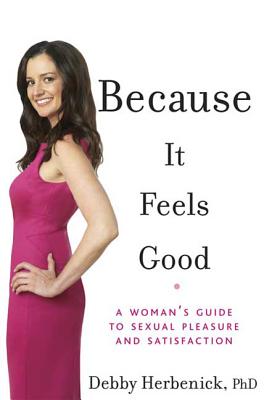 Because It Feels Good: A Woman's Guide to Sexual Pleasure and Satisfaction (Hardcover)
A Woman's Guide to Sexual Pleasure and Satisfaction
Rodale Books, 9781605298764, 248pp.
Publication Date: August 18, 2009
* Individual store prices may vary.
or
Not Currently Available for Direct Purchase
Description
In our sophisticated, liberated, "Sex and the City "age, women are eager to enjoy sex to the fullest. But for many women, it's not quite that easy. In fact, "Men's Health "columnist Debby Herbenick receives thousands of letters and emails from women across the country who admit to having less than spectacular sex lives and they're looking for advice.
Herbenick is the kind of confidante every woman longs for a sex advisor who is as approachable as a girlfriend and as knowledgeable as a sex education professor. At the core of her advice is the belief that sex should be fun, satisfying, and intimate but first and foremost, it should simply feel good. From enlightening lessons on female anatomy to the complicated issue of libido to an overview of sex toys and positions, "Because It Feels Good "informs women about every aspect of sexual function, providing the knowledge they need to have the sex lives they deserve. This is a pleasure manifesto and your handbook to a great sex life.
About the Author
DEBBY HERBENICK, PHD, MPH, is a research scientist and lecturer at Indiana University and coordinator of the Kinsey Institute Sexuality Information Service for Students (KISISS). She writes weekly and monthly sex advice columns for newspapers and magazines including Men's Health and Time Out Chicago. She is often called upon as a sex expert by various media from the Today show and Discovery Health to the New York Times. She lives in Bloomington, Indiana.
Praise For Because It Feels Good: A Woman's Guide to Sexual Pleasure and Satisfaction…
"Debby Herbenick's book with the great title Because It Feels Good offers a wealth of basics for anyone returning to or embarking on what America has demonized far too long: sex for the sake of pleasure."--Betty Dodson PhD, author of Sex for One and Orgasms for Two
"Loving your body isn't just about looking good--it's about feeling good. This book humorously and directly demystifies the path to personal pleasure in a way that every woman can understand." -- Nancy Redd, New York Times bestselling author of Body Drama
"Debby Herbenick is the worldly, wise, warm, witty, daring, caring older sister we all wish we'd had. She's hip to the latest toys and trends, but she doesn't overlook the timeless essentials: good communication, basic anatomy, and olive oil. See ya later, Dr. Ruth."--Mary Roach, author of Bonk and Stiff
"Your sexual history is so much more than a number, it's who you are and what you bring to your experiences. With her empathetic approach and unquestionable knowledge, Debby Herbenick has written an empowering guide that will enable women to make sexual history."--Ian Kerner, sexuality counselor and author of She Comes First.
"What a phenomenal resource, grounded in the best sexuality research and beautifully written! The practical and creative suggestions make clear that even very small changes in our lives can go a long way towards enhancing sexual pleasure."--Judy Norsigian, Executive Director, Our Bodies Ourselves organization
"Fun and informative, Because It Feels Good is packed with suggestions to help couples to enhance their sensual and sexual experiences. A must-read for all women who want to feel good about themselves and their relationships."--Beverly Whipple, Ph.D, RN, FAAN, co-author of The G Spot
"Dr. Debby Herbenick helpfully addresses the full scope of women's common sexual concerns, focusing on communication and creativity. This is how sexuality education should be delivered-- with fun, style, joy, and expertise! Highly recommended."--June M. Reinisch, Ph.D., Director Emeritus & Senior Research Fellow, The Kinsey Institute
"No two women are the same in terms of their sexuality. It is important for each woman to find out what is right for her. Debby Herbenick's excellent book will help women to do that."
-- John Bancroft, M.D., author of Human Sexuality and Its Problems
Advertisement