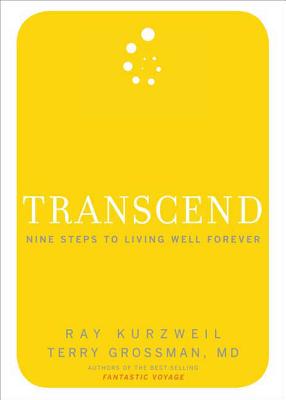 Transcend: Nine Steps to Living Well Forever (Hardcover)
Nine Steps to Living Well Forever
Rodale Books, 9781605299563, 480pp.
Publication Date: April 28, 2009
* Individual store prices may vary.
or
Not Currently Available for Direct Purchase
Description
In 2004, Ray Kurzweil and Terry Grossman, MD, published "Fantastic Voyage: Live Long Enough to Live Forever." Their groundbreaking book marshaled thousands of scientific studies to make the case that new developments in medicine and technology will allow us to radically extend our life expectancies and slow down the aging process. Soon, our notion of what it means to be a 55-year-old will be as outdated as an eight-track tape player.
"TRANSCEND: Nine Steps to Living Well Forever" presents a practical, enjoyable program so that readers can live long enough (and remain healthy long enough) to take full advantage of the biotech and nanotech advances that have already begun and will be occurring at an accelerating pace during the years ahead. To help readers remember the nine key components of the program, Ray and Terry have arranged them into a mnemonic:
Talk with your doctor
Relaxation
Assessment
Nutrition
Supplementation
Calorie reduction
Exercise
New technologies
Detoxification
This easy-to-follow program will help readers transcend the boundaries of our genetic legacy and live long enough to live forever.
About the Author
Ray Kurzweil, author of "The Singularity Is Near" and several other best-selling books, is a world-renowned scientist and recipient of the National Medal of Technology, 17 honorary doctorates, awards from three US presidents, and many other honors.

Terry Grossman, MD, is coauthor with Ray of "Fantastic Voyage." He is the medical director of Grossman Wellness Center and is an internationally sought expert and practitioner in the area of longevity medicine.
Praise For Transcend: Nine Steps to Living Well Forever…
"Ray Kurzweil knows more about the future of technology than anyone on the planet. If you want to have the greatest chance of seeing the next century, read TRANSCEND today." —Dean Ornish, MD, founder and president, Preventive Medicine Research Institute; clinical professor of medicine, University of California, San Francisco; author, The Spectrum and Dr. Dean Ornish's Program for Reversing Heart Disease "Kurzweil and Grossman have created another breathtaking book—a concise yet comprehensive guide to staying healthy and living life to the fullest. This visionary and must-read book also provides a brilliant and entertaining view of our transcendent future if we follow the TRANSCEND program."—Dean Kamen, physicist and inventor of the first wearable insulin pump, HomeChoice portable dialysis machine, IBOT Mobility System, and Segway Human Transporter, and recipient of the National Medal of Technology "TRANSCEND provides a comprehensive yet easy-to-read review of the latest scientific and medical research related to the process of aging and age-related diseases, which will eventually affect all of us. Ray and Terry present an insightful view of the remarkable future that awaits us through growth of technology, while providing the motivation today to stay in shape to enjoy this future. This extremely well researched book provides a vision and roadmap for keeping both body and mind healthy so that we can take advantage of future advances to prolong healthy lifespan." —Ron Kahn, MD, Mary K. Iacocca Professor, Harvard Medical School; former president and former director of research, Joslin Diabetes Center
Advertisement