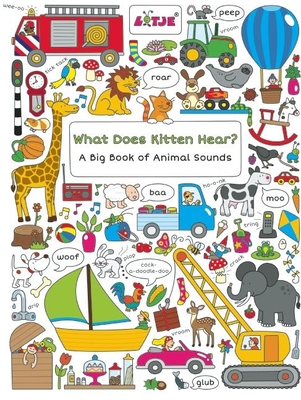 What Does Kitten Hear? (Hardcover)
A Big Book of Animal Sounds (Lotje Everywhere)
Clavis, 9781605372525, 14pp.
Publication Date: November 15, 2016
* Individual store prices may vary.
Description
Kitten travels through a world full of sounds. What does she hear on the farm, in the park, and at the zoo? She meets a lot of animals on her travels. Do you know what those animals eat? On each page of this book, you'll recognize sounds, count from one to ten, discover colors, and compare things. And there's a little blue beetle hiding on each page. Can you find it?
A colorful search-and-count book that will provide hours of fun. For curious kids ages 3 and up.
About the Author
Lizelot Versteeg (1980) studied graphic design at the Academy for Art and Design in 's-Hertogenbosch, Holland. Since 2002 she worked as a designer for several bureaus in Holland and Belgium, and also worked as a freelance designer and illustrator. She has always had a passion for illustrating, and a love for children's books. This came together in the beginning of 2012, when her son Lucas was born. She stayed at home for several months, in which she created the concept for her first series of children's books, Colors Everywhere, Things Everywhere and Animals Everywhere. These books were published under the name her own mother called her when she was young: Lotje, short for Lizelot. The distinctive style of the Lotje books consists of simple, joyful drawings with bright colors. Creating children's books has been a lifelong dream of Lizelot, and she hopes many more books may follow!