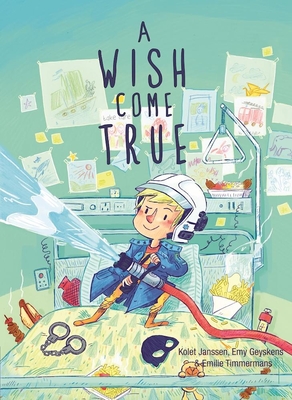 A Wish Come True (Hardcover)
Clavis, 9781605373355, 32pp.
Publication Date: June 13, 2017
* Individual store prices may vary.
Description
"A beautiful book to share with those who have a loved one going through a long term illness or to spark a discussion on the topic." -- Storywarps
Mark has to spend a lot of time in the hospital because of a serious illness affecting his blood. The Make-A-Wish(R) fairies agree that this brave little boy deserves a treat. Mark wishes to catch bad guys The fairies offer him an unforgettable day at the fire department and the police station. Mark and his parents have a blast
A cheerful and instructive picture book for children ages 4 and up about Make-A-Wish(R) and the wish of a child diagnosed with a life-threatening medical condition, with an informative afterword from Make-A-Wish(R).
About the Author
Kolet Janssen (1955, Hasselt, Belgium) studied Theology and was a teacher before she started writing books. She 'gathered' six children together with her husband: 3 foster children and 3 of their own. She writes picture books and contemporary texts for adults. Emy Geyskens (1982, Geel, Belgium) worked as a teacher when the movie 'You've Got Mail!' inspired her to become a Reading Fairy. As Reading Fairy she visits libraries, schools and hospitals to read aloud to children. All those experiences help her write her books. Emilie Timmermans is a Belgium based artist working for children's books, comics, visual development for animation, and 2D animator. She also works as a 2D animator for Cartoon Network among others.