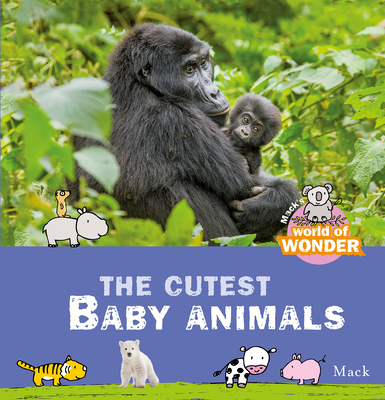 Mack's World of Wonder. the Cutest Baby Animals (Hardcover)
Clavis, 9781605374222, 80pp.
Publication Date: November 1, 2018
* Individual store prices may vary.
Description
"Calling baby animals cute may seem redundant, but this ... does indeed highlight some of the cutest animals on the planet....encourages children to both listen and look for animal distinctions beyond their cuteness." -- Booklist
What does a newborn sheep look like? Can a baby duck swim?
Where does a baby bear like to play? What color is a baby zebra's stripes?
Is a baby rhinoceros born with a horn? In this book you learn everything
about cute baby animals on the farm and in the wild.
An informative book filled with fun facts and stories about all kinds of baby animals. With beautiful pictures and playful illustrations. For children ages 5 and up.
About the Author
Mack (1960, the Netherlands) is a graphic designer and illustrator from The Netherlands. He was educated at the Royal Academy of Art in The Hague. During his education he made funny and educational cartoons about, among others, penguins and whales. These cartoons were later bought by the 'Diergaarde Blijdorp'-zoo in Rotterdam. By now Mack is a regular illustrator at this animal park and he is the author of several children's books, in which animals often are the lead characters. Mack has a primitive way of drawing. He gets inspired by African art and the paintings of the Australian aboriginals. Both create a immense power by simplifying shapes. Mack wants to combine that powerful simplification with a subtle sense of humour. "In my books I try to teach children something in a funny way," Mack says. "If I draw a penguin, it doesn't matter to me that much how pretty he is or how good of an swimmer he is. What I want to show the most is how baggy he stands on the ice and how funny his walk is. That funny bagginess is what I try to catch in a couple of lines. Only when children can laugh about it, I think to myself: 'Yes, I did it'."