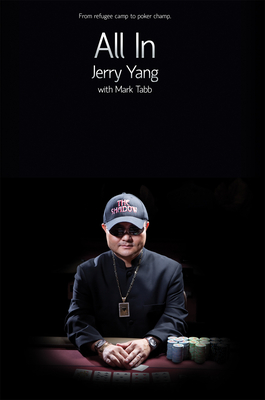 All in (Hardcover)
Medallion Press, 9781605421889, 323pp.
Publication Date: July 1, 2011
* Individual store prices may vary.
Description
In this intimate profile of an unlikely poker champion, the life story of Jerry Yang is laid outfrom his difficult Hmong childhood to his success as a professional poker player. Born in the mountains of northern Laos, Jerry spent four and a half years in a Thai refugee camp after his family escaped the Communist forces. He endured horrific living conditions there and watched his family members die at gunpoint, but miraculously escaped and immigrated to the United States. From his first chance encounter with poker to winning the 2007 World Series of Poker, his struggles and achievements are chronicled here. It details Jerry's domination in the sport and how he uses his winnings to give back to the organizations that fed and clothed him during his childhood at the refugee camp. This autobiography is truly inspirational and is a reminder that the American dream is attainable for those with the courage and tenacity to pursue it.
About the Author
Jerry Yang is a psychologist and a former social worker who worked with at-risk children for several years. He lives in Fresno, California. Mark Tabb is the author and coauthor of more than 20 books, including "Mistaken Identity," "A Promise to Ourselves," and "The Unusual Suspect." He lives in Indiana.
Praise For All in…
"A story of ultimate personal triumph."  —Booklist, starred review

"All In is a fascinating story of a man determined to improve himself and improving his world along the way. Very much recommended."  —Midwest Book Review

"A marvelous read."  —Boston Globe

"A wonderful combination of humor and gut-wrenching experiences."  —Chicago Sun-Times

"All In is among poker's elite memoirs, capturing the inspiring account of the poker's unlikeliest hero, a small-statured immigrant who went on to become a champion both in poker and in life."  —PokerNews.com

"Readers of All In will find themselves rooting for Yang. He seems like a genuinely nice guy who survived an unbelievably hellish childhood to become not just a poker champion but a psychologist and philanthropist." —www.RainTaxi.com