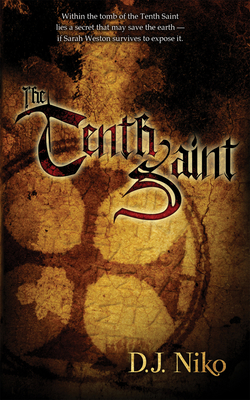 The Tenth Saint
Book One (Sarah Weston Chronicles #1)
Paperback

* Individual store prices may vary.
Description
Cambridge archaeologist Sarah Weston makes an unusual discovery in the ancient Ethiopian mountain kingdom of Aksum--a sealed tomb with inscriptions in an obscure dialect. Along with her colleague, American anthropologist Daniel Madigan, she tries to identify the entombed man and translate the inscriptions. Tracking down clues in Addis Ababa and the monasteries of Lalibela, Sarah and Daniel uncover a codex in the subterranean library revealing the secret of the tomb--a set of prophecies about Earth's final hours, written by a man hailed by Ethiopian mystics as Coptic Christianity's 10th saint. Faced with violent opposition and left for dead in the heart of the Simien Mountains, Sarah and Daniel survive to journey to Paris, where they're given a 14th-century letter describing the catastrophic events that will lead to the planet's demise. Connecting the two discoveries, Sarah faces a deadly conspiracy to keep the secret buried in order to promote technological advances presently leading toward the prophesied end of the Earth.
Medallion Press, 9781605422459, 438pp.
Publication Date: January 25, 2012
About the Author
D.J. Nikois the pseudonym for Daphne Nikolopoulos, a journalist, author, editor, and self-proclaimed modern nomad who has spent the better part of two decades traveling the world. As a former travel writer and zealous adventurer, she has visited remote spots on six continents, many of which have inspired her novels. She has a particular passion for deserts and the nomadic way of life and has spent time among various tribes in Africa and Asia. She was born and raised in Athens, Greece, and now resides in Florida with her family.
or
Not Currently Available for Direct Purchase