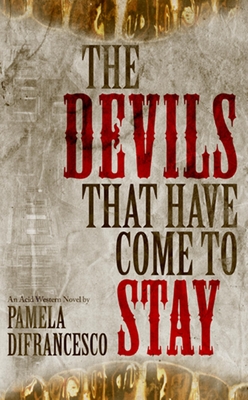 The Devils That Have Come to Stay (Paperback)
Medallion Press, 9781605425818, 304pp.
Publication Date: February 10, 2015
* Individual store prices may vary.
Description
In this stark Acid Western, the dark side of oft-glorified Gold Rush period in California is revealed when the Narrator, a nameless, fragile man in search of salvation, witnesses the brutality of western expansion. On a journey to meet up with his wife, who is taking care of her ailing mother, the Narrator witnesses the crossing of paths between a Native American man on a moral quest to right the wrongs of the Gold Rush and a desperate, fearsome stranger who has lost everything in his quest for gold. Along the way, Narrator's sensibilities shift and change, and his dark and troubled past emerges in glimpses he struggles to repress. Ultimately, he is left with a decision that will change not only his own life, but the lives of those around him.

About the Author
A native of Pennsylvania coal country, Pamela DiFrancesco moved at the age of eighteen to New York City, where the streets and lofts of pre-Bloomberg Bushwick took her in. With no family money or support she put herself through college, doing whatever it took to get by. Overcoming incredible personal odds, she completed her first novel on a forty-year-old Olympia typewriter and, much to her surprise, found it plucked out of the slush pile and immediately offered a contract. In addition to The Devils That Have Come to Stay, DiFrancesco's recently published work includes features in The Carolina Quarterly (who nominated a story for the Best American Mystery Writing anthology), Monkeybicycle, and The New Ohio Review.
or
Not Currently Available for Direct Purchase