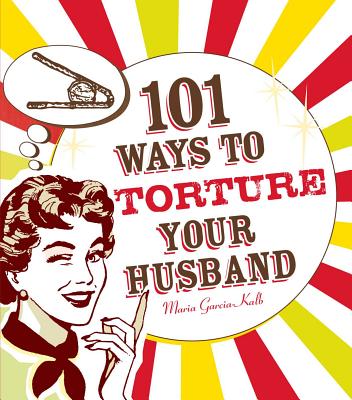 101 Ways to Torture Your Husband (Paperback)
Adams Media, 9781605500102, 224pp.
Publication Date: January 18, 2010
* Individual store prices may vary.
Description
He forgot your birthday.
He always leaves his socks on the floor.
He's glued to the tube all weekend for every game.
Let's face it: Even the best of husbands are a real pain in the ass sometimes. And when all the "talks," counseling sessions and self-help books fail, there's only one viable recourse: torture. In this hilarious collection of clever tricks and tactics, you will learn how to put your husband in his place when you:
Bury the remote in the backyard
Have lunch with an ex
Pick a fight during the game
Book a male masseuse for your next massage
Delete his DVR recordings
And many more!
Risk factors rank damage done as well as how long it'll take him to get over it. With the creatively wicked methods outlined in this manual, he'll never misbehave again!
About the Author
Maria Garcia-Kalb (Fort Lauderdale, FL) is a radio broadcaster who most recently completed eight years as the host of the "Steve and Maria Morning Show" on Long Island's 106.1 WBLI-FM. At WBLI, Maria shined as the first Latina to dominate the local airwaves, and created award-winning benchmarks such as "Hersday" and "Man-Hating Monday." She is currently an on-air personality on WFLC-FM 97.3 "The Coast" in Hollywood, FL. Maria has a lot of experience in torture . . . she has been married to her husband Andrew for ten years.