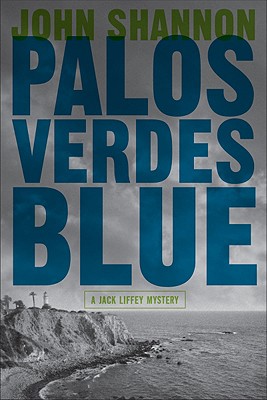 Palos Verdes Blue (Hardcover)
A Jack Liffey Mystery
Pegasus Books, 9781605980379, 336pp.
Publication Date: April 7, 2009
Other Editions of This Title:
Paperback (4/13/2010)
* Individual store prices may vary.
Description
In the latest Jack Liffey novel, L.A.'s most famous child-finder finds himself enmeshed in a race-fueled turf war on the Palos Verdes peninsula.
Barely recovered after nearly loosing his daughter to religious fanatics in what could only be termed a "witch-hunt" in Bakersfield (
The Devils of Bakesfield
, 2008), Jack is hired to find another girl, Blue, the missing teenage daughter of his ex-wife's best friend.  The investigation leads him to discover an intense turf war on L.A.'s posh Palos Verdes peninsula. The Bayboys, rich teenage surfers, routinely vandalize cars and terrorize outsiders to enforce a strict locals-only policy for their own Lunada Bay. They have also started terrorizing the Mexican day laborers who camp in the ravines between the mansions where they work as gardeners and houseboys.
When one stubborn Mexican boy decides that he wants to learn to surf the waves of Lunada Bay, the feud turns violent, drawing in arsonists, angry bikers, racist border vigilantes, and Jack's daughter Maeve, who once again puts herself at risk to help her father.
About the Author
John Shannon is one of America's leading writers of neo-noir. His Jack Liffey series of novels is one of the most critically praised mystery series in the genre and includes Terminal Island, Dangerous Games, The Dark Streets, The Devils of Bakersfield, and Palos Verdes Blue. Shannon lives in Los Angeles.
Praise For Palos Verdes Blue: A Jack Liffey Mystery…
Jack Liffey, the private investigator in John Shannon's mysteries, works the roughest territory in the genre—the subculture of the Southern California teenager.  That doesn't begin to describe the harrowing rescue job he undertakes when he begins searching for a schoolgirl with a passionate commitment to protecting butterflies and other endangered species, including the illegal Mexican workers camping out on the cliffs above Lunada Bay. Unaware that his own impetuous teenage daughter is endangering herself by trying to help him, Liffey patiently excavates the area's social strata, uncovering layers of antagonism among the privileged rich and their anonymous day laborers, rival surfer gangs and a racist militia group prowling the hills—hostility that bounces right back at parents from their alienated children. (Marilyn Stasio, The New York Times)


With a hero as brainy, compassionate, and conflicted as Liffey, the only real mystery is why these books aren't bestsellers. (Keir Graf, Booklist)


A rewarding mystery that highlights Shannon's ability to sharply render subtle shades of right and wrong. (Publishers Weekly)


One of the finest and boldest detective series ever...an extended valentine to the battered, tattered City of Angels that never fails to entertain and challenge. (Kevin Burton Smith, January Magazine)

or
Not Currently Available for Direct Purchase