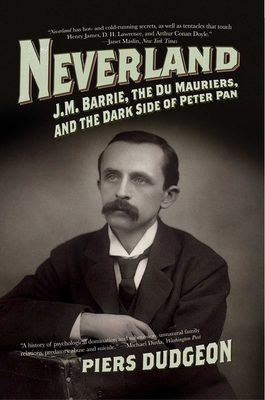 Neverland (Hardcover)
J. M. Barrie, The Du Mauriers, and the Dark Side of Peter Pan
Pegasus Books, 9781605980638, 352pp.
Publication Date: October 15, 2009
Other Editions of This Title:
Paperback (7/15/2011)
* Individual store prices may vary.
Description
The untold story behind Peter Pan: The shocking account of J. M. Barrie's abuse and exploitation of the du Maurier family.
In his revelatory
Neverland
, Piers Dudgeon tells the tragic story of J. M. Barrie and the Du Maurier family. Driven by a need to fill the vacuum left by sexual impotence, Barrie sought out George du Maurier, Daphne du Maurier's grandfather (author of the famed
Trilby
), who specialized in hypnosis. Barrie's fascination and obsession with the Du Maurier family is a shocking study of greed and psychological abuse, as we observe Barrie as he applies these lessons in mind control to captivate George's daughter Sylvia, his son Gerald, as well as their children—who became the inspiration for the Darling family in Barrie's immortal
Peter Pan
.
Barrie later altered Sylvia's will after her death so that he could become the boys' legal guardian, while pushing several members of the family to nervous breakdown and suicide. Barrie's compulsion to dominate was so apparent to those around him that D. H. Lawrence once wrote:
J. M Barrie has a fatal touch for those he loves. They die.
About the Author
Piers Dudgeon worked closely with Daphne du Maurier on her book Enchanted Cornwall. He began his research on his book  Neverland after learning that Daphne had placed a moratorium on her diaries until fifty years after her death. Piers has worked with authors as diverse as John Fowles, Peter Ackroyd, Shirley Conran and Ted Hughes. He lives in London.
Praise For Neverland: J. M. Barrie, The Du Mauriers, and the Dark Side of Peter Pan…
Neverland
has hot- and cold-running secrets, as well as tentacles that extend out to touch Henry James, D. H. Lawrence, and Arthur Conan Doyle.
— Janet Maslin
A history of psychological domination and submission, unnatural family relations, predatory abuse and suicide.
— Michael Dirda
Starred Review. Over the course of what becomes a page-turner, Dudgeon charts the lives of three generations of writers to show how the sins, dark gifts, and obsessions of the famed
Punch
illustrator and best-selling novelist du Maurier were visited on the author of
Peter Pan
.
Dudgeon also portrays Barrie as a dark and troubled man who may have used hypnotism to gain an obsessive control over the Du Maurier boys and their mother. He goes on to look at Barrie's link to the tragic demise of the boys, from the drowning of Michael to the suicide of Peter.... this will appeal most to those with a specific interest in these authors.
Meticulous and highly provocative... Dudgeon knows what he's doing and builds his case with precision and coolness... It's a gripping read that exposes the dark side to two seemingly innocent activities, writing and loving children... Dudgeon has exposed, in quite a magnificent way, the power and potential for abuse in both.
A rattling grisly read... 'May God blast anyone who writes a biography of me,' Barrie warned and his curse was surely aimed at Dudgeon, who goes further than any other biographer... I defy you not to be captivated.
— Frances Wilson
Dudgeon...has negotiated the dark back-tracks and by-ways of Barrie's chilling Neverland.... He tells a terrible story without sentimentality, without sensationalism and without undue psychologising... Intelligently and feelingly done.
— Brian Morton
Dudgeon's portrait of Barrie—as a man who filled the vacuum of his own sexual impotence by a compulsive desire to possess the family who inspired his most famous creation, Peter Pan—will be of interest to anyone who has followed the twists of the du Maurier family history.
— Justine Picardie, author of Daphne
A fascinating account of the psychological web in which Barrie trapped the tragic du Maurier family.
— David Lodge, author of Author, Author
A riveting joy. I was literally captivated by this story. Poor scintillating du Mauriers. Poor boys....I felt as if I was living it.
— Nina Auerbach, author of Daphne du Maurier: Haunted Heiress
or
Not Currently Available for Direct Purchase