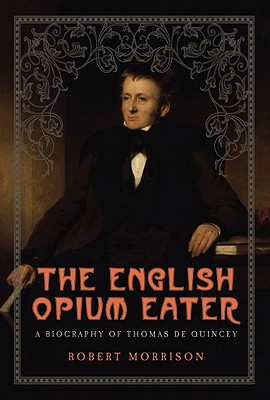 The English Opium Eater (Hardcover)
A Biography of Thomas De Quincey
Pegasus Books, 9781605981321, 480pp.
Publication Date: December 15, 2010
Other Editions of This Title:
Paperback (2/15/2012)
Paperback (11/11/2010)
* Individual store prices may vary.
Description
A masterful biography of one of England's most notorious literary figures.
Author of the famed and scandalous
Confessions of an English Opium-Eater
, Thomas De Quincey (1785-1859) has long lacked a full-fledged biography. His friendships with leading poets and men of letters in the Romantic and Victorian periods—including William Wordsworth, Samuel Taylor Coleridge and Thomas Carlyle—have long placed him at the center of nineteenth century literary studies. He was a man who engaged with nearly every facet of literary culture, including the roles played by publishers, booksellers, and journalists in literary production, dissemination and evaluation. His writing was a tremendous influence on Edgar Allan Poe, Charles Dickens, and William Burroughs.
De Quincey is a fascinating (and topical) figure for other reasons, too: a self-mythologizing autobiographer whose attitudes to drug-induced creativity and addiction strike highly resonant chords for a contemporary readership. Robert Morrison's biography passionately argues for the critical importance and enduring value of this neglected icon of English literature.
About the Author
Robert Morrison is recognized as a world-class scholar of Romantic and Victorian literature. He is the editor of De Quincey's On Murder (Oxford) as well as a collection of critical essays on De Quincey (Routledge). Robert is currently a professor of literature at Queen's University in Ontario. He lives in Canada.
Praise For The English Opium Eater: A Biography of Thomas De Quincey…
This is the first biography of the writer in decades.... in fact I can't imagine anybody ever needing to do the job again. Mr. Morrison gives us an admirably lucid tour through the long, chaotic shambles of De Quincey's life.

In this lucid, deeply researched biography, Robert Morrison makes plain that De Quincey wasn't just a recreational user, but truly a slave to his habit…. excellent, detailed and often harrowing biography.

A finely mapped study of an eccentric character best known for writing a celebrated essay that, Morrison suggests, 'offers an influential prototype for the figure of the bohemian who combines drugs, intellectualism, unconventionality, and the city.

Robert Morrison's biography is impressive, the first biography
of De Quincey in almost thirty years, and the first to use all his
published and unpublished works.

The time was ripe for a new biography and Morrison has done his
man proud. This is an exceptionally well-balanced account.
— "Book of the Week"

Morrison provides a compelling survey of De Quincey's work as a biographer, satirist, economist, political commentator, translator, linguist and classicist.
— "Book of the Week"

I knew that I was on to a good thing with this book before the page numbers were even out of roman numerals... This was a lively life, and this is a lively life.

Morrison writes... with a combination of perspicacity and generous puzzlement... Thanks to Morrison... The life is clearer than it has ever been.

A book which is full of insight and careful reasoning... Morrison does a superb job of literary detection going through a life of lies, procrastination and deceit, and teasing out whatever truth there is to be had.

Robert Morrison's biography is astute and revealing, quarrying new sources.

This isn't a debunking biography, just a properly skeptical one, and it's clear that Morrison's enthusiasm for the man and his writings does not obscure his judgment.
or
Not Currently Available for Direct Purchase