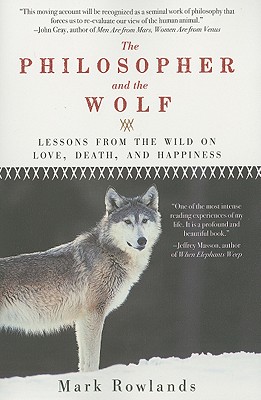 The Philosopher and the Wolf
Lessons from the Wild on Love, Death, and Happiness
Paperback

* Individual store prices may vary.
Other Editions of This Title:
Paperback (12/7/2017)
Hardcover (4/7/2009)
MP3 CD (8/2/2016)
Description
The charming and poignant story of the relationship between a philosophy professor and his pet wolf.
Mark Rowlands was a young philosophy professor, rootless and searching for life's greater meaning. Shortly after arriving at the University of Alabama, he noticed a classified ad in the local paper advertising wolf cubs for sale, and decided he had to investigate, if only out of curiosity. It was love at first sight, and the bond that grew between philosopher and wolf reaffirms for us the incredible relationships that exist between man and animal.
When Mark welcomed his new companion, Brenin, into his home, but more than just an exotic pet, Brenin exerted an immense influence on Rowlands both as a person, and, strangely enough, as a philosopher, leading him to reevaluate his attitude toward love, happiness, nature, death, and the true meaning of companionship.
Praise For The Philosopher and the Wolf: Lessons from the Wild on Love, Death, and Happiness…
Not everyone can blend wildlife lore and Wittgenstein in an entertaining manner, but Rowlands has no trouble. Delightful and eye-opening.
— Connie Ogle

A snarly misanthrope, Rowlands recovered his own humanity
by loving a noble beast and (with a little help from Aristotle,
Descartes, and Jack Daniel's) learning to howl at the moon.

One of the most intense reading experiences of my life. It is a profound and beautiful book.
— Jeffrey Masson, author of When Elephants Weep: The Emotional Lives of Animals

This moving account will be recognized as a seminal work of
philosophy that forces us to re-evaluate our view of the human
animal.
— John Gray, author of Men Are from Mars, Women Are from Venus
Pegasus Books, 9781605981338, 256pp.
Publication Date: December 15, 2010
About the Author
Mark Rowlands is a Professor of Philosophy at the University of Miami and the author of The Philosopher and the Wolf. His books have been translated into fifteen languages.