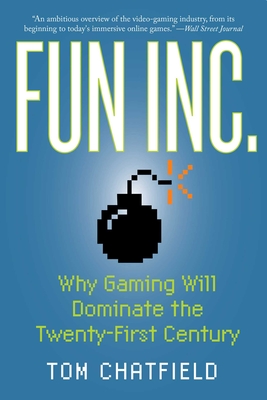 Fun Inc.
Why Gaming Will Dominate the Twenty-First Century
Hardcover

* Individual store prices may vary.
Other Editions of This Title:
Paperback (2/14/2011)
Paperback (12/15/2011)
MP3 CD (7/26/2016)
Description
"An ambitious overview of the videogaming industry, from its beginning to today's immersive online games."—Wall Street Journal
Despite the recession, video games continue to break records—and command unprecedented amounts of media coverage. The U.S. is the world's biggest video games market and manufacturer, with a market now worth over $20 billion annually in software and hardware sales—more than quadruple its size in the mid 1990s.
World of Warcraft
now boasts over 11 million players worldwide, and over $1 billion per year in revenues. Gaming is flourishing as a career and a creative industry as well. 254 U.S. colleges and universities in 37 states now offer courses and degrees in computer and video game design, programming and art. Video games are increasingly for everyone: 68% of American households now play computer or video games, while the average game player is 35 years old and has been playing games for twelve years.
Against the popular image, too, 43% of online U.S. game players are female. The U.S. military alone now spends around $6 billion a year on virtual and simulated training programs, based around video games and virtual worlds. The budgets for developing the biggest games can now top the $100 million mark and are snapping up some of the biggest names in film—from Stephen Spielberg to Peter Jackson.
Praise For Fun Inc.: Why Gaming Will Dominate the Twenty-First Century…
Whether or not you share Chatfield's optimism, Fun Inc. should help to block the fear-mongering generalization—the riffing on prejudices—that has passed for insight on this topic in broadsheet comment pages. If critics of game-playing can't bring themselves to enter these worlds themselves, to learn first-hand what they are talking about, they should at least read this insightful book.


Fun Inc. is the most elegant and comprehensive defence of the status of computer games in our culture I have read. The sheer pervasiveness of game experience—99 per cent of teenage boys and 94 per cent of teenage girls having played a video game—means that instant naffness falls upon those who express a musty disdain for the medium. In fact, as Fun Inc. elegantly explains, computer game-playing has a very strong claim to be one of the most vital test-beds for intellectual enquiry.


A detailed and engaging analysis on an increasingly influential medium. Even non-gamers may find
themselves seduced.

In exploring the potential of the medium, Chatfield covers much territory, briskly and with intent ... His conclusion on what the future could hold is in equal parts daunting and lip-smacking. It should be read by gamers and non-gamers alike.

Sparklingly intelligent and nuanced... fresh and engaging.

A thought-provoking read for those already won over to the delights of computer games, and an even more important introduction to them for those who remain skeptical.

A lively, thought-provoking and thoughtful read on an entertainment juggernaut many of us have failed to properly recognize. A good book, too, for parents, who might feel far more comfortably informed about a sector that can come across as—literally—an alien world their kids inhabit.
Pegasus Books, 9781605981437, 272pp.
Publication Date: November 15, 2010
About the Author
Tom Chatfield is Arts and Books editor at the highly prestigious Prospect magazine and also writes for the Times Literary Supplement, The Times, and The Observer in London. he has done puzzle design and creative consultancy for a number of online games companies.
or
Not Currently Available for Direct Purchase