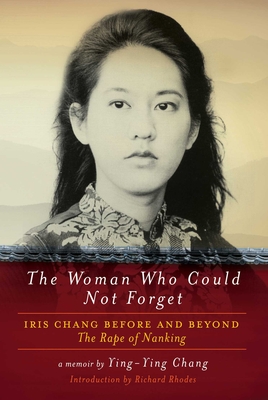 The Woman Who Could Not Forget (Hardcover)
Pegasus Books, 9781605981727, 400pp.
Publication Date: May 15, 2011
Other Editions of This Title:
Paperback (7/1/2012)
Paperback (10/31/2012)
* Individual store prices may vary.
About the Author
Ying-Ying Chang is the mother of Iris Chang. She has a PhD from Harvard in biochemistry and was a research associate professor of microbiology at University of Illinois in Urbana-Champaign with her husband, Shau-Jin, a physics professor. She lives in San Jose, California and is on the board of the Iris Change Memorial Fund.
Praise For The Woman Who Could Not Forget…
The Woman Who Could Not Forget, a new biography by her mother, Ying-Ying Chang, provides new insights into the pressures that the world put on Iris, who as the author of the late 1990s best seller The Rape of Nanking came not only to fear for her own safety but for that of her loved ones.


Ying-Ying had accomplished what she set out to do. Iris Chang will not be forgotten.

Theirs is a story of love for their star child and a search for answers to her shocking demise. It's clear in the memoir, which includes many of the long, passionate letters Ms. Chang wrote to her parents, that she was driven to make her mark on history.

This is a brave and serious book, a worthy memorial to a brave and serious daughter.
— Simon Winchester, author of The Professor and the Madman

Iris Chang was a history hero. She discovered, researched and told a story of horror that otherwise would have been unknown and ignored by the world. And she lived a life that was shortened by her own horrors which her mother, Ying-Ying Chan, has chronicled in a caring and graceful memoir that also deserves wide attention. The Woman Who Could Not Forget is a moving, superb book.

— Jim Lehrer, host of PBS Newshour

An intimate portrait of a brilliant historian and a beloved daughter.
— Ted Leonsis, author of The Business of Happiness

The Woman Who Could Not Forget is a must read if you want to personally experience the spirit of dedication and determination and sense of justice of Iris Chang.

— Thekla Lit, President of B.C. ALPHA (Association for Learning & Preserving the History of WWII in Asia)

This beautiful and courageous memoir is the gift
of a mother's love and has a storyteller's fine detail and is told with
heartfelt honesty.  Ying Ying
Chang's moving insights help us to better understand the triumphs and travails
and the life and suicide of her beloved warrior-daughter Iris.
— Helen Zia, author of Asian American Dreams: The Emergence of an American People

With her motherly wisdom, perseverance and courage, no wonder Ying-Ying could produce a daughter such as Iris Chang who could write the book The Rape of Nanking.   A moving memoir reveals the profound caring and loving bond between a mother and a daughter."  

— Theresa Chao, Founder of the National Council of Associations of Chinese Language Schools

To (Iris's) mother, Dr. Ying-Ying Chang, a Harvard trained research scientist, the death of Iris has made her question about the meaning of her own existence. She searches for answers by documenting her memories of Iris in a new book, The Woman Who Could Not Forget.


Ying-Ying's book contains numerous letters written by Iris. This correspondence reveals a brilliant and often work-obsessed young woman who loved her mother. In an emotional aside, Ying-Ying confessed that she could never have written her book had it not been for her daughter's constant refrain that one person can make a difference.
— Georgia Strait

In this brave memoir, you will share in the celebration of a life, allowing us to experience her presence again. Full of courage and conviction, full of life.
— Richard Rhodes, from the Introduction

 "The Power of One" was Iris' credo.  She was a caring human rights champion and spoke from her heart and soul.  The Woman Who Could Not Forget is an insightful book, a great gift from her mother to the public to honor the memory of her beloved daughter.

— Ignatius Y. Ding, VP of Global Alliance for Preserving the History of World War II in Asia, from the Foreword
or
Not Currently Available for Direct Purchase