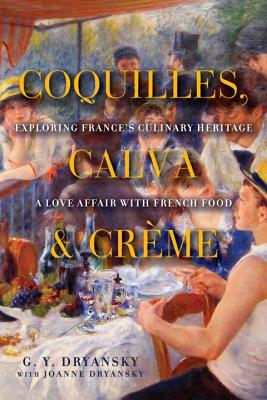 Coquilles, Calva, and Crème (Hardcover)
Exploring France's Culinary Heritage: A Love Affair with Real French Food
Pegasus Books, 9781605983295, 400pp.
Publication Date: June 1, 2012
Other Editions of This Title:
Paperback (6/1/2013)
* Individual store prices may vary.
Description
The American Winner of the 2012 GOURMAND World Cookbook Award: A celebration and critique of the French culinary landscape and a gastronomical excursion across the French countryside in search of the unsung cooks who are still doing it right.
A culinary memoir that brings to life some of the most fascinating, glamorous food years in France and reveals gastronomical treasures from gifted artisans of the French countryside.
Dryansky's stories are the stuff of legend—evenings with Coco Chanel and Yves Saint Laurent, historic wine auctions and memorable banquets—but Coquilles, Calva, and Créme is more than memories. These same memories prompt a journey across modern-day France, through kitchens, farms, and vineyards, offering a savory experience that can be duplicated by the reader afterward with numerous recipes, most of which have never before been recorded.
In the world of today's professional cooking, publicity-chasing and performance has overshadowed the importance of dining and the food itself. Too often the modern restaurant is a mixture of bizarre novelty and paradoxical clichés. Truly great dining happens when you're fully engaged in the moment, acknowledging the range of associations that emerge, as Proust wrote, from sensory experiences. From small cafés in Paris to Normandy, Alsace, the Basque country, and beyond, Dryansky takes us on a sweeping sensory journey, with a voice as thoughtful as Kingsolver, as entertaining as Bourdain, and as cogent and critical as Pollan.
About the Author
Gerry Dryansky has called Paris home for more than thirty years, two decades of which he spent as the senior European correspondent for Condé Nast Traveler. He has written for magazines and newspapers around the globe and lives in France with his wife, Joanne, who is the coauthor of this volume.

Joanne Dryansky is the wife of Gerry Dryansky, the senior European correspondent for Condé Nast Traveler. Joanne and Gerry moved to Paris and write screenplays and fiction together. Their recent novel Fatima's Good Fortune, after being published in the United States and worldwide, is going to the screen.
Praise For Coquilles, Calva, and Crème: Exploring France's Culinary Heritage: A Love Affair with Real French Food…
An appetizing, evocative, eccentric paean to Gallic gastronomy.  A richly textured memoir.
— Colman Andrews

I have had the incredible good luck to have eaten dozens and dozens of French meals with Gerry Dryansky, and he was never wrong. I mean, never. We would travel down some little street, to some little restaurant, and then: delight, pure pleasure. There's nobody I know, in Paris or New York, who understands French food the way Gerry does. And surely nobody who writes about it as well as he does.
— Alan Furst, author of Mission to Paris and the bestselling Spies in the Balkans

A delicious and delightful read,
especially for those who think they might know this country. When you sit down
to a meal with Dryansky, you taste the very soul of France.
— Eleanor Beardsley, France Correspondent, National Public Radio

Reading this book is
like lunching with Gerry Dryansky: from coquilles to Calva, with crème in between,
it is seasoned with wit and charm. Rich with food-lover wisdom, it captures
what France does best.
— Mort Rosenblum, Editor of Dispatches, winner of the Overseas Press Club, Mencken, Harry Chapin and James Beard Awards

Find an escape to a better world in Coquilles, Calva & Creme.  A book to dream over.

— Michael Dirda, Pulitzer Prize Winner

Tuck this delicious tome in your hamper between
Proust's madeleines and the champagne—then feast your soul. The Dryanskys
remind us that in France – at least sometimes and in some places – authenticity
still rhymes with simplicity, and great writing makes a fine relish.
— David Downie, author of Paris, Paris: Journey into the City of Lights and the Terroir food series

French food and travel with a dash of history—what a treat it is to sit
at the table with this smart, engaging writer. A delicious read from start to
finish.
— Barbara Fairchild, winner of the James Beard Award, bestselling food writer and longtime editor of Bon Apétit

Congratulations to Dryansky. It was a great pleasure to read his
text, both so well documented and free of polemics.
— Christian Millau, co-founder of Le Guide GaultMillau, herald and godfather of "La Nouvelle Cuisine"

Part memoir, part travelogue, Coquilles, Calva & Creme is a hymn to French food and wine and the joy of wining and dining in France with "convivialité" - which for the French is key. Dryansky has many a story to tell about the past (lunching with the likes of Coco and Yves) but in this present tour de France he greets each dining experience, each new chef, each new winemaker, and each new region, from Alsace to Le Massif Central, with genuine curiosity, an open mind, and a discerning first rate palate. This entertaining, erudite, and elegant book is a must for Francophiles and food lovers everywhere.

— Harriet Welty Rochefort, bestselling author of French Toast, French Fried and the forthcoming Joie de Vivre

Coquilles, Calva, and Creme vividly brings back my years of working in Paris in the 1950s. When I contemplate my cooking journey of the last half century, from classic to nouvelle, from fusion to modern American to molecular, the only reminiscences I have is of food that touches my soul or makes me salivate. Gerry Dryansky writes honestly and eloquently about these simple, honest, essential dishes in his engaging, compelling, and delicious memoir.

— Jacques Pépin, winner of the James Beard Award
or
Not Currently Available for Direct Purchase