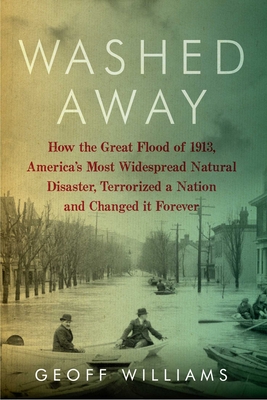 Washed Away (Hardcover)
How the Great Flood of 1913, America's Most Widespread Natural Disaster, Terrorized a Nation and Changed It Forever
Pegasus Books, 9781605984049, 336pp.
Publication Date: February 13, 2013
Other Editions of This Title:
Paperback (3/6/2014)
MP3 CD (6/28/2016)
* Individual store prices may vary.
Description
The incredible story of a flood of near-biblical proportions-its destruction, its heroes and victims, and how it shaped America's natural-disaster policies for the next century.
The storm began March 23, 1913, with a series of tornadoes that killed 150 people and injured 400.  Then the freezing rains started and the flooding began. It continued for days.  Some people drowned in their attics, others on the roads when the tried to flee. It was the nation's most widespread flood ever -- more than 700 people died, hundreds of thousands of homes and buildings were destroyed, and millions were left homeless. The destruction extended far beyond the Ohio valley to Illinois, Indiana, Michigan, Nebraska, Pennsylvania, Tennessee, Arkansas, Louisiana, Kentucky, West Virginia, New York, New Jersey, and Vermont. Fourteen states in all, and every major and minor river east of the Mississippi. 
In the aftermath, flaws in America's natural disaster response system were exposed, echoing today's outrage over Katrina.  People demanded change. Laws were passed, and dams were built.  Teams of experts vowed to develop flood control techniques for the region and stop flooding for good. So far those efforts have succeeded. It is estimated that in the Miami Valley alone, nearly 2,000 floods have been prevented, and the same methods have been used as a model for flood control nationwide and around the world.
About the Author
Geoff Williams is the author of C.C. Pyle's Amazing Foot Race: The True Story of the 1928 Coast-to-Coast Run Across America. For most of his life, Williams has lived less than an hour away from the Great Flood's epicenter in Dayton, Ohio.
Praise For Washed Away: How the Great Flood of 1913, America's Most Widespread Natural Disaster, Terrorized a Nation and Changed It Forever…
Of the major natural catastrophes of the early twentieth century, the Great Flood of 1913 is one of the least remembered. Over several days in March of that year, heavy rains with fierce winds and tornadoes caused severe flooding in 14 states. Before the storm abated, rain turned to snow. Every major river east of the Mississippi rose, many bridges washed away, and fallen telegraph and telephone lines isolated towns and cities in need of outside help. Hundreds of people died between Nebraska and Vermont from drowning,fires, freezing temperatures, accidents, and suicide. Indiana, Ohio, and Pennsylvania were the hardest-hit states. Williams weaves tragic and heroic stories of people in the various affected states into an almost hour-by-hour account of the deadly storm. This quick-reading history published for the storm's centennial should interest readers who enjoyed Erik Larson's Isaac's Storm about the Galveston hurricane of 1900 or Simon Winchester's A Crack in the Edge of the World about the San Francisco earthquake of 1906.


Deeply researched, personal accounts of the Midwestern natural disaster whose ramifications can be felt today. Journalist Williams offers an eerily prescient work that comes in the wake of another
storm of the century, Hurricane Sandy. In mid-March 1913, a series of
tornadoes accompanied by a deluge of rain on saturated, thawing ground
caused inordinate damage to a swath of Ohio and Indiana, impacting both
neighboring states and those as far away as Vermont and New Jersey and
leaving approximately 1,000 dead and untold damage to the heartland.
Williams has delved into the archives and extracted the stories of
survivors and many who perished, tragedies witnessed by many and
recorded in newspapers, books and memories passed down.  A well-honed chronicle of a significant national disaster, especially timely following the destruction of Sandy.
or
Not Currently Available for Direct Purchase