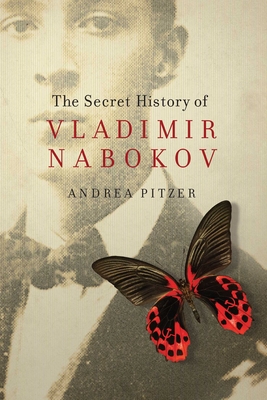 The Secret History of Vladimir Nabokov
Hardcover

* Individual store prices may vary.
Other Editions of This Title:
Digital Audiobook (3/12/2013)
Paperback (9/15/2014)
Compact Disc (3/6/2013)
Description
A startling and revelatory examination of Nabokov's life and works—notably Pale Fire and Lolita—bringing new insight into one of the twentieth century's most enigmatic authors.

Novelist Vladimir Nabokov witnessed the horrors of his century, escaping Revolutionary Russia then Germany under Hitler, and fleeing France with his Jewish wife and son just weeks before Paris fell to the Nazis. He repeatedly faced accusations of turning a blind eye to human suffering to write artful tales of depravity. But does one of the greatest writers in the English language really deserve the label of amoral aesthete bestowed on him by so many critics?

Using information from newly-declassified intelligence files and recovered military history, journalist Andrea Pitzer argues that far from being a proponent of art for art's sake, Vladimir Nabokov managed to hide disturbing history in his fiction—history that has gone unnoticed for decades. Nabokov emerges as a kind of documentary conjurer, spending the most productive decades of his career recording a saga of forgotten concentration camps and searing bigotry, from World War I to the Gulag and the Holocaust. Lolita surrenders Humbert Humbert's secret identity, and reveals a Nabokov appalled by American anti-Semitism. The lunatic narrator of Pale Fire recalls Russian tragedies that once haunted the world. From Tsarist courts to Nazi film sets, from CIA front organizations to wartime Casablanca, the story of Nabokov's family is the story of his century—and both are woven inextricably into his fiction.
Praise For The Secret History of Vladimir Nabokov…
"Certainly the most remarkable and insightful book on Vladimir Nabokov in many years. It is by taking big history with its small devastating details into account that Pitzer brilliantly manages to unlock a secret door in the oeuvre of the often misunderstood Mandarin. A must for even non-Nabokovians."
— Michael Maar, author of Speak, Nabokov and The Two Lolitas

"Drawing on new biographical material and her sharp critical senses, Pitzer reveals the tightly woven subtext of the novels, always keen to shine a light where the deception is not obvious. A brilliant examination that adds to the understanding of an inspiring and enigmatic life."
— Kirkus Reviews (starred)

"Pitzer, like Nabokov, is a beautiful writer and gimlet-eyed observer, especially about her subject; even as an impoverished refugee living in America, she writes, "Nabokov was never shy about his sense of self." Her attention to history's moral components is refreshingly blunt: "The dead are not nameless," she writes of the writers and others killed in Stalin's Great Purge of the late 1930s. Inviting us to reconsider Nabokov, Pitzer also introduces herself as a writer worthy of attention."
— Boston Globe

"Andrea Pitzer has given students of Nabokov a startling gift: a fundamentally new way to read one of the English language's preeminent prose wizards. She demolishes the false distinction between the literary gamesman we know Nabokov to be and the historically engaged writer he supposedly isn't. His famous characters' psychoses, it turns out, are bound up inextricably with those of the horror-drenched century through which their creator navigated. In a feat of fascinating literary detective work, Pitzer supplies a long-overdue map of these connections."
— Christopher Goffard, author of You Will See Fire and Snitch Jacket

"Pitzer shows history—if not politics—was never far from Nabokov's considerations. Nabokov was, for example, an ardent enemy of anti-Semitism and a supporter of civil rights in the American South. Pitzer depicts him as fully engaged with the concerns of the world—though he was far too courtly, too genteel, to shout his convictions from the rooftops."
— The New Republic

"Pitzer tackles the life and work of Vladimir Nabokov from a critical and refreshing viewpoint different from previous biographies. Pitzer accomplishes her goal of revealing the indirect appearance of Nabokov's biography in his most celebrated fiction. Highly recommended for all Nabokov fans who as a result of reading this will probably wish to reread the works analyzed here."
— Library Journal (starred)

"The Secret History of Vladimir Nabokov shows how the specters of history and politics shaped one of the twentieth century's most important writers. In clear and bracing prose, Pitzer demonstrates the complex engagement with politics in the deepest recesses of Nabokov's most famous novels, including Lolita and Pale Fire. This book manages the impressive feat of being at once a wide-ranging introduction to Nabokov's life and work as well as a game-changer for those readers who thought they knew his writing cold."
— Steven Belletto, author of No Accident, Comrade: Chance and Design in Cold War American Narrives

"In a personal note Nabokov sent to Solzhenitsyn in 1974, on the day the dissident writer was expelled from the Soviet Union, Pitzer recognizes a telling connection between two writers who shared more than most critics have realized. A penetrating analysis certain to compel a major reassessment of the Nabokov canon."
— Booklist (starred)

"Fifty years is long time to wait for a decryption device but one has been furnished by Andrea Pitzer, the author of The Secret History of Vladimir Nabokov, not just one of the most beguiling literary biographies to come out in years but also a first-rate addition to the shelf of Nabokov studies."
— Daily Beast
Pegasus Books, 9781605984117, 352pp.
Publication Date: March 13, 2013
About the Author
Andrea Pitzer founded Nieman Storyboard, the narrative nonfiction site of the Nieman Foundation for Journalism at Harvard University. Her work has also appeared in print in USA Today's Life section and online at HiLowbrow.com. She presented on Nabokov's fiction at the 2009 MLA Conference, is a graduate of Georgetown's School of Foreign Service, and lives in northern Virginia.
or
Not Currently Available for Direct Purchase